This post may contain affiliate links. If you buy thru these links, we may earn a commission at no additional cost to you.
---
A recent study of 20 participants aged 22 to 29 (each accessing the Internet on average at least 2 hours a day, and each having at least four years of prior Internet experience) yielded 57 different variables that affect user judgments of a Web page, plus 10 clusters grouping the 57 variables that reflect the underlying mental structure of the user preferences.
In English:
If you want to design your website to have the greatest impact among twenty-somethings, then you might want to consider the following factors, as they reveal some interesting website surfing "facts" and variables that affect a user's experience. Even if 22-29 isn't your target market, chances are many of the variables would be ranked similarly by other age brackets as well.
User Preferences That Affect One's Judgment Of A Website
#1 Information Layout
#2 Server Response Times
#3 Time to Load
#4 Download Time
#5 Speed
#6 Visual Groups
#7 Security
#8 Credible and Original Information
#9 Location of Information
#10 Privacy
#11 System Independent
#12 Timely Information
#13 Browser Independent
#14 Wait-Time Feedback
#15 Simple Uniform Resource Identifiers (URIs)
#16 Updated Regularly
#17 Interactive
#18 Provide Search
#19 Grouping and Subheadings
#20 Length of an Article
#21 Minimized Scrolling
#22 Graphic File Size
#23 Innovative
#24 Clear Exits
#25 Navigation Support
#26 Font Size
#27 Simple Headlines and/or Titles
#28 Position in the Screen
#29 Printable Contents
#30 Back Button
#31 Free Service
#32 Simple Images
#33 Graphics
#34 Visual Design Cues
#35 Background Images
#36 Pictures Instead of Description
#37 Drop Down Menus
#38 Non-Frames
#39 Accurate Plain-Language Error Messages
#40 Frames
#41 Games
#42 Opening of New Browser Window
#43 Entertainment
#44 Standard Colors for Links
#45 Logo
#46 Animations
#47 Accessible for Users with Disabilities
#48 Graphics for Graphics and Text for Text
#49 Multiple Colors
#50 3-D Images
#51 Icons
#52 Banners
#53 Coordinated Audio and Video
#54 Movies
#55 Sudden Pop-Up Windows
#56 Songs
#57 Advertisements
There are other valuable lessons to be learned from A recent this study as well.
And, to top it all off, check out this cool visual depicting an Internet users' typical eye movements across a website's homepage. Woah!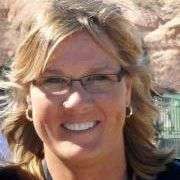 I got my first computer in 1986 and immediately started writing, saving documents, and organizing my entire life on it. Thus began my love affair with gadgets and all things tech. I built my first website in 1998 in old-school HTML code — before websites were "a thing". Blogs weren't invented yet. It was the same year that Google was born. My husband and I created TheFunTimesGuide.com in 2004 — before YouTube, Twitter, Reddit, and Mashable were launched. That was the year Facebook started and 'blog' was the Word of the Year according Merriam-Webster. Ever since then, anytime a new electronic gadget hits the market… I have to have it. (My husband's impulsive nature to try out every new tech gadget invented is even worse than mine!) When I'm not trying out fun new tech gadgets, you'll find me at the corner of Good News & Fun Times as publisher of The Fun Times Guide (32 fun & helpful websites).