This post may contain affiliate links. If you buy thru these links, we may earn a commission at no additional cost to you.
---
Did you know that most people check their phones 352 times each day?!
It's true… here's the study. (You'll notice that this is 4x more than we checked our phones in 2019.)
Whew – That's a lot of picking up and putting down your phone in a day. Basically, what that amounts to is 704 opportunities to drop your phone while you're picking it up and putting it down — each and every day!
That's why you want (and need) a safe and secure way to hold onto and type into your smartphone on a daily basis.
Otherwise, your phone will suffer (and so will your wallet) — because studies have found that most people drop their phones an average of 1 to 4 times each week!
Unless you have a cell phone ring holder, that is.
A cell phone ring holder is a helpful and clever way to keep a grip on your smartphone…
Reasons To Use A Phone Ring Grip
A phone ring grip sticks securely onto smartphones, tablets, and phone cases — and it folds completely flat when you're not using it.
With a cell phone ring holder attached to your smartphone, you can:
Take selfies effortlessly (…you'll never fear dropping your phone trying to get the angle just right again!)
Hold your smartphone or tablet safely and comfortably (…and still be able to type easily)
Avoid dropping your phone and cracking the screen (…especially if you use your smartphone a lot)
Easily pick up your phone with just one hand by grabbing the ring itself (…without the fear of dropping it)
Type with one hand (…instead of having to use 2 hands all the time)
Save your pinky finger from pain (…if you text a lot on your phone)
Capture photos while you're moving (like I do… on the back of our motorcycle) 
Reasons Not To Use A Phone Ring Grip
Most of the following apply to only a small minority of people with smartphones.
Here are a few reasons you might not want to use a phone ring holder:
How To Use The Phone Ring As A Stand
The phone ring also acts as a stand (like a kickstand or easel) to prop up your phone — either horizontally or vertically.
This makes it easy to:
See what time it is from a distance… like from bed (as long as your phone shows the clock on the lock screen)
Watch videos or movies without having to hold your phone/tablet
Read text (like books, or recipes while you're cooking)
Type text with just one thumb (when you're in a hurry… or all the time if you're like me and never got the hang of typing fast with 2 hands)
Play games for long periods of time comfortably on your phone or tablet
Follow directions easily when using your phone as a GPS
Make hands-free phone calls by speaking voice commands to make calls
You can also "hook" the ring onto random things — as yet another way to use your phone hands free. And you can still tilt your smartphone in any direction when it's hanging from something.
The Brand Of Phone Ring Holder You Buy Matters!
I've learned firsthand after trying a few different brands of phone rings that it makes a difference which brand you buy.
Here are 3 things that tend to be very different from brand to brand:
#1 – The adhesive isn't strong enough with some brands. And that's not something you want to find out the hard way… when your phone falls to the ground because the phone ring didn't stay attached.
#2 – When the ring is used as a kickstand, your phone can wobble to the left or right when propped on a flat surface with some brands. That's because not all phone rings have a flat edge to rest securely on.
#3 – The stability (or rigidity) of the ring can loosen and become flimsy with some brands after using it only a few times — so it falls down easily whenever it's used as a phone stand, and it slides around too much whenever it's on your finger and you're trying to type.
This video shows how to tighten a phone grip ring that is too loose:
The iRing Brand Is Best
Those are the 3 biggest reasons why I like the iRing brand the best.
I've bought several iRings through the years (usually each time I got a new phone). And I've gifted several of them as well.
This is how the iRing is better than other brands with regard to each of the 3 points above:
#1 – The adhesive on each iRing I've owned has lasted for the entire life of each phone that I put an iRing on.
#2 – The ring on each iRing I've owned has always maintained a certain degree of firmness or rigidity that is important for keeping the phone safe & secure — in your hand when the ring is around your finger and when the phone is propped up while using the ring as a kickstand.
#3 – The ring itself on the iRing has a long flat spot on the part of the ring that rests on flat surfaces. That way, it always rests securely without wobbling or leaning to the right or left when bumped.
I found that the quality that this company [iRing] puts into this is amazing! Far superior from the other cheaper selections out there, and while the price seems to be a bit steep making the cheaper competitors tempting DON'T DO IT! This is the only one you'll need! Stays firm even after months of wear and tear, never wobbles or comes loose after the abuse it may go on. My brother got the cheaper kind and i saw him go through 4 of them while my iRing stayed feeling just like new. 

~ Source
Personally, I've bought the iRing brand of phone ring from both QVC and Amazon. They both lasted for the life of the phones they were put on.
What Size Ring Is On The iRing Grip?
The ring itself is about the size of a quarter in diameter.
To give you an idea of how the iRing "fits," here are 3 examples:
I wear a size 8 on my ring finger and a size 10 on my middle finger. I usually use the phone ring on my middle finger — and the iRing is still loose enough to quickly slip my finger in and out of the ring.
My mom wears a size 7 on her ring finger and a size 8.5 on her middle finger — so even though her fingers are smaller than mine, the iRing fits her nicely as well.
I've heard from a guy who wears a size 13 ring and the iRing still fits loose enough to quickly put on and take off.
The Bottom Line About Cell Phone Ring Holders…
I really like the versatility of a phone ring… especially the iRing brand.
I've had mine for years now. Ever since I saw Carrie Underwood sporting one on her smartphone. (Way before they were popular, and many years before the invention of Pop Sockets.)
I like how you can put any finger inside the ring — so you can hold it in whatever way is most comfortable for you.
And when you use a phone ring grip, your smartphone can rotate in any direction — a full 360 degrees. So you're not limited to only using it in  landscape mode or only taking pictures in portrait mode.
It swivels to whatever angle you want — and can be leaned forwards or backwards 180 degrees.
I also like how a phone ring makes a great gift — because you don't need to know a person's size, brand of phone, or anything else! Anyone who has a phone would love this handy and thoughtful gift.
Generally speaking, a phone ring holder works best when used directly on the phone — instead of on a phone case. But if you use the tip below, it can easily be used on a cell phone case. My friend has her iRing attached to her Mophie case.
My Best Tip: If you've purchased a cheaper version of the phone ring holder (or if you bought the iRing and you want to move it onto a different phone)… I've found that you can make any phone ring grip stick better to your phone (or phone case) simply by adding 2 thin strips of double-sided tape directly on top of the adhesive that's already on the cell phone ring — before you press the ring firmly onto your phone. Or… you could add 1 square piece of double-sided mounting tape from a roll. (Personally, I just use whatever strips of adhesive I happen to have leftover from 3M Command Strips.)
iRing Accessories
I love this!…
There are a couple of fun iRing accessories — like the iHook and the iDock.
Plus, 2 new amazing upgrades for the iRing phone grip:
#1 – The iRing Slide Case – a protective phone case (that works with wireless chargers!) and phone ring grip in one. To use with a wireless charger, just slide the phone ring downward and then rest your phone on top of the wireless charger.
#2 – The iRing Pocket – a smartphone grip, kickstand, and card holder all built into one handy gadget. I've been hoping for this combination for awhile now!
As for iRing accessories, clever uses for the iHook and the iDock are described here: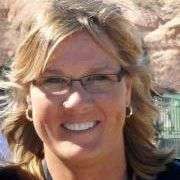 I got my first computer in 1986 and immediately started writing, saving documents, and organizing my entire life on it. Thus began my love affair with gadgets and all things tech. I built my first website in 1998 in old-school HTML code — before websites were "a thing". Blogs weren't invented yet. It was the same year that Google was born. My husband and I created TheFunTimesGuide.com in 2004 — before YouTube, Twitter, Reddit, and Mashable were launched. That was the year Facebook started and 'blog' was the Word of the Year according Merriam-Webster. Ever since then, anytime a new electronic gadget hits the market… I have to have it. (My husband's impulsive nature to try out every new tech gadget invented is even worse than mine!) When I'm not trying out fun new tech gadgets, you'll find me at the corner of Good News & Fun Times as publisher of The Fun Times Guide (32 fun & helpful websites).