This post may contain affiliate links. If you buy thru these links, we may earn a commission at no additional cost to you.
---
Do you remember where you were when Facebook announced your death? I do.
It was November 11, 2016, and I was at work at The Fun Times Guide with founder Lynnette when I logged into my account and noticed a Facebook memorial page with my name on it.
She saw it too, and for a second (as she's looking at my living and breathing self) she was quite confused!
Turns out it was a pretty big glitch that "killed off" Facebook creator Mark Zuckerberg as well.
Seriously though, this is my friend Jenn's Facebook memorial page. We lost her in November 2015.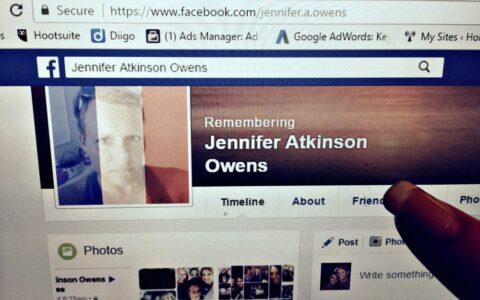 I learned of her passing by receiving a Facebook message from a friend we shared.
It's one heck of a way to learn of a loved one's passing. But I'm grateful for it — because it might have taken awhile to get the news otherwise (since I no longer lived near her).
Following is everything you need to know about:
How to set up a Facebook memorial page.
How to report someone on Facebook has died.
How to assign your own Facebook legacy contact.
How to protect your other social profiles, email, cloud storage, etc.
How to create online memorials for loved ones.
What Is A Facebook Memorial Page?
Fortunately, Facebook has responded to an outpouring of requests to keep the pages of deceased members available. It seems to be the new venue for memorializing a person these days — which is great, since it's available to everyone with access to the Facebook page of the person who died.
In short, a Facebook memorial page is a deceased person's original Facebook profile page that has been turned into a place for friends and family to share memories after that person passed away.
A Facebook memorial page has the following features:
The word "remembering" is shown next to the person's name on their original Facebook profile page.
Depending on the privacy settings of the account, friends can share memories on the memorialized timeline.
If the deceased person had shared photos, posts, or videos they remain available on Facebook and are visible to the audience they were shared with.
A Facebook memorial page doesn't appear in public spaces — such as in suggestions for People You May Know, Facebook ads, or birthday reminders.
A Facebook memorial page allows friends and family to share through comments, photos, and videos, exactly how they knew the deceased.
This aids the grieving process — allowing the "network" of friends and colleagues (who otherwise would never know each other) to share memories with one another about their common friend.
How To Report Someone On Facebook Has Died
There's a very simple protocol for dealing with a Facebook account for someone who is no longer alive — the page can either be memorialized or removed.
To start the process, fill out this Facebook special request.
Here's what happens when a Facebook page is memorialized:
If you're a close friend or family member, you can submit a form called the Facebook memorialization request.
Once an account has been memorialized, it's completely secured and cannot be accessed or altered by anyone other than the legacy contact — if the person had assigned one before their death, that is. If there is no legacy contact, then the Facebook page cannot be changed in any way because Facebook won't share the login information for the account with anyone.
After the request for memorialization has been made, Facebook will notify the requestor via email once the process is complete.
Pages with a sole admin whose account was memorialized can be removed from Facebook, if a valid request is submitted.
Here's what happens when a Facebook account is removed:
Verified immediate family members can submit special form to request the removal of a Facebook page.
The deceased person's timeline and all associated content from Facebook will be deleted for good — so no one can view it.
All pictures and posts originating from the deceased's Facebook profile will be permanently removed.
What Will Happen To Your Facebook Page When You Die?
I know what you're thinking: "What will happen to my Facebook account when I die?" (Well maybe that's not what you're thinking right now, but you might want to give it some thought.)
You have a couple of options when it comes to handling your own Facebook after death.
As long as you've given your login info to a loved one, they can:
Have the page deleted; or
Turn it into a Facebook memorial page.
But your best bet is to assign a Facebook legacy contact now!
How To Set Your Facebook Legacy Contact
Though it's a little morbid, doing this now will make it much easier for your family members or friends to take care of your Facebook after death.
Set your Facebook legacy contact.
Your Facebook legacy contact will be able to:
Post things that appear at the top of your Facebook memorial page.
Respond to requests from friends and family members that were not connected on Facebook.
Update your Facebook profile photo and cover photo.
Your Facebook legacy contact will not be able to:
Log into your Facebook account.
Delete or change past posts, photos, videos, and other things shared on your Facebook timeline.
Read your Facebook messages.
Remove any of your Facebook friends.
This tutorial walks you through each of the steps involved in assigning a Facebook legacy contact.
https://youtu.be/CjOudqwgb7Q
What About Your Email And Other Online Profiles?
While you're setting up your legacy contact to oversee your Facebook page after you're gone, you should also consider how all of your other online information will be managed after your death.
It's a fact — most people don't know what happens to your digital assets after you die.
The first thing you should do (now… while you're still alive) is to designate a digital executor to take care of your online activities when you're gone. A digital executor takes care of:
Your email account and any old emails you've saved — in Gmail, Outlook, Yahoo, etc.
Your online photo albums — like Flickr and Google Photos
Your social media profiles — including Facebook, Twitter, Instagram, YouTube, Snapchat, Flickr, YouTube, Google, etc.
Anything that's on your personal computer, your smartphone, and in the cloud
You can create a Last Will that allows you to appoint not only a traditional executor to manage your assets, but also a digital executor. This person is in charge of handling your digital assets — that means deleting, downloading, converting files, and managing social media profiles. Source
In addition to creating your Digital Estate Plan, here's everything you need to know about naming a digital executor.

 
Tips For Creating Online Memorials For Loved Ones… Or Yourself
In addition to having a digital executor, you might want to utilize a website that allows you to plan and personalize your own online memorial.
For example, My Wonderful Life is a free online service to help you plan and personalize your own funeral — so it reflects the way you lived. It also alerts your friends and family where all of your "stuff" is. You can include information like bank accounts, online security passwords, and other information that you might not include in a traditional Will.
My Wonderful Life was featured on Shark Tank and in the Wall Street Journal.
In addition to the links above, I found these sites helpful when looking into ways to create online memorials for loved ones:
I'm a health nut, a frugal mom, a dog lover, a DIYer, and a gadget girl. Personally, as a post-divorce, working single mom on a budget I have a lot of experiences that I enjoy sharing so others can learn from the things I wish I knew earlier! Professionally, I've worked full-time in a variety of marketing, sales, and editing jobs. You can always find me at the corner of Good News & Fun Times as Managing Editor at The Fun Times Guide (32 fun & helpful websites).