This post may contain affiliate links. If you buy thru these links, we may earn a commission at no additional cost to you.
---
I just noticed that Georgia will be switching to mandatory 10-digital dialing on April 3rd.
They're not the first — or the last — to do so. But it got me thinking:
A) Just how many more NUMBERS must we humans be required to remember in order to perform the multitude of tasks that we enjoy these days?
and…
B) Of all that I believe in, stand for, and ultimately do in life… what it all comes down to is this: I am just a number.
I'm a Social Security Number to my government, my health insurance & dental providers, and my accountant.
I'm an account number… city, state & zip… and mother's maiden name to my credit card companies.
I'm a "2" in my husband's preset speed-dialer on his cellphone (ahem, 1 was required to be used for voicemail).
I'm a driver's license & vehicle registration number to any police officer.
I'm a barcode (scanned from my ticket) at all the sporting events and concerts I attend.
I'm a "VIP" (as indicated by a special series of numbers) at my friendly neighborhood Kroger — so I can buy things at prices that aren't jacked up. (Same is true at CVS, Sam's Club, Publix… you get the idea).
I'm a "frequent customer" at The Bluebird Cafe — so I can get Priority Seating (for every 10 events that I attend without priority seating), so long as I tell them my meaningless 4-digit number (that they've chosen for me) each time.
I'm an e-mail address (and sometimes a password) to the many, many websites — and accompanying enewsletters & RSS feeds — that I subscribe to.
Geesh!…
Have you ever stopped to think just how many different combinations of numbers and letters you have managed to keep locked up in your brain?
From logging onto computers & logging into software programs… to accessing your banking information & ATM machiness… to simple telephone, voicemail — what it all comes down to is numbers!
Not to mention all the personal phone numbers and email addresses we must remember in order to contact our friends & relatives and random places we do business with.
More About 10-Digit Dialing
From the looks of things, the FCC began planning the switch to 10-digit dialing as far back as December, 2000. Supposedly, "to conserve phone numbers and slow the need for new area codes".
If it's not already in place where you live, it's coming, so get ready.
Here are some tips for deailing with 10-digit dialing:
Reprogram your speed dial/preset telephone numbers, dial-up Internet connections and any call block or call forwarding functions to include the area code.
Ensure that the telephone numbers in your wireless phone's address book are 10 digits, including the area code.
Update your fax machine speed dial numbers to include the area code.
Check with your home or business security system provider for any programming changes to accommodate 10-digit dialing.
Reprint your checks, stationary, business cards, business signage or any other printed material if you do not have your area code listed with your telephone number.
All I can say is: Thank goodness for programmable speed-dialing presets in our cellphones. (I can't tell you the last time I actually had to "recall" someone's phone number from memory before I dialed it.)
Same is true with computers…
Fortunately, we have things like bookmarks, RSS feed readers, and even password-remembering programs built into our computers and programs these days. Otherwise, I don't know how we could possibly do it. Who could keep it all straight?
Fun Facts About 10-Digit Dialing & Remembering Numbers
Unique Method For Remembering Numbers
Tips For Remembering Very Long Numbers
How To Remember Short Numbers, Long Numbers & Phone Numbers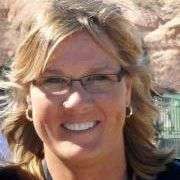 I got my first computer in 1986 and immediately started writing, saving documents, and organizing my entire life on it. Thus began my love affair with gadgets and all things tech. I built my first website in 1998 in old-school HTML code — before websites were "a thing". Blogs weren't invented yet. It was the same year that Google was born. My husband and I created TheFunTimesGuide.com in 2004 — before YouTube, Twitter, Reddit, and Mashable were launched. That was the year Facebook started and 'blog' was the Word of the Year according Merriam-Webster. Ever since then, anytime a new electronic gadget hits the market… I have to have it. (My husband's impulsive nature to try out every new tech gadget invented is even worse than mine!) When I'm not trying out fun new tech gadgets, you'll find me at the corner of Good News & Fun Times as publisher of The Fun Times Guide (32 fun & helpful websites).