This post may contain affiliate links. If you buy thru these links, we may earn a commission at no additional cost to you.
---
I don't play games on my cell phone (an iPhone) very often. However, I do enjoy board games, word games, and Tetris-type "clear the board" games.
That said, I LOVE these iPhone apps that I found under the Games category in the Apple store!
Since I'm no gamer, I thought maybe others who simply wanted to add a few fun time-wasters onto their iPhones might appreciate this info. (See the type of iPhone apps I prefer, instead of games.)

See why I think the following iPhone game apps are the best…
My Favorite iPhone Puzzle Games

I think this one used to be called Snap7. Either way, the object of the game is to accumulate the most points before the board completely fills with balls.
They call it Tetris meets Sudoku. I would agree with that. (I just so happen to enjoy both of those games.)
The Tetris-like angle pertains to the colored balls that drop (not continuously, but one at a time… only when you release it).
The Sudoku-like aspect is the fact that you have to pay attention to the numbers on each of the balls.
However, in Drop7 you don't really add up numbers like you do with Sudoku — so if you don't care for that game, you'll still enjoy this one!
It's the "unique and logical" twist that makes Drop7 so much fun.
To "clear a row" (or a square) on the 7×7 grid of squares, you sort of chip away at it — ball by ball. Each time, you get to choose which row/column you want to drop the next ball into.
If, for example, the ball falls into the #3 position of a row or column AND one of the balls already in that column (or the one you just dropped) has a #3 on it, then every ball with the #3 on it disintegrates — which clears the board a bit.
Or put another way, whenever the number on a ball matches the amount of balls in its row or column, all balls in that row or column with that particular number on them disappear.
Bonuses come when the numbered ball that clears a square is also touching a gray "bonus ball."
More bonuses come your way when you clear an entire row of 7 balls with the drop of a single ball.
I've been playing it for several years now, and I'm sure there's still more that I have to learn about how this game really works. But that's another great thing about it — while it's sophisticated and can be difficult, it's also simple and takes very little thinking at all to play.
My high score on Drop7 is 231,173 so far.
From the official description:
Master the unique game-play twist in seconds but fine-tune your strategies forever. (So true!… It's easy, but you never overcome it or feel that you're not being challenged.)
Choose from 3 modes of play:
The relaxed Normal Mode.
The fast-paced Hardcore Mode.
The mysterious Sequence Mode — where you will be given the exact same discs as everyone else on the planet for the ultimate test of strategy!
I've only played the Normal mode so far, and it's challenging enough for me.
I started out playing the FREE version of Fuzzle (Fuzzle Free). But I knew right away that this iPhone game was a keeper! I happily paid for the upgrade to have unlimited play and extra levels in the full version of Fuzzle.
When you're playing Fuzzle, you really only have one mission: to line up 5 balls of the same color, horizontally, vertically, or diagonally. That's it! As soon as you make a row of 5 or more of the same color, those balls go away and you move on to creating a new line of 5 same-colored balled.
Here are some tips for playing Fuzzle:
You only move one ball at a time.
After each move you make, 3 more colored balls will appear on the 8×10 grid of squares.
Sometimes they fall where you want them to be; other times they fall in your way and you have to use up a turn to move them OR work on a new line of 5 balls of the same color.
Bonuses come into play when the multi-colored balls appear randomly on the screen. They can be used as any color you want to help you create a line of 5 same-colored balls.
Mega-bonuses occur when a black ball appears in the mix. Those can be used in place of any colored ball to create a row of 5, but instead of clearing just that row of same-colored balls, it will clear every single ball of that color on the board!
As the game proceeds, the grid gets more and more jammed up with colored balls and it becomes harder to create a line of 5 same-colored balls.
Fuzzle takes far less brain-power than Drop7 does, so I play this one whenever I'm just wanting to doodle for awhile or kill some time without having to pay much attention to details.
My high score on Fuzzle is 1437 so far.

There are lots of different Sudoku game iPhone apps to choose from. I've tried a handful of them.
My favorite one is the FREE Sudoku game by Mighty Mighty Good Games.
You play it just like any Sudoku game. Each time, you can choose a game from the following skill levels: Easy, Medium, Hard, Expert. I always play the Easy level (and it's still a tad difficult, if you ask me).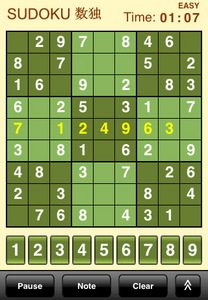 For a FREE app, I think it's got a lot of sophisticated features including:
The ability to pause the game (and the timer).
The ability to leave little numbers in the corners (when 2 or more numbers could actually work in one square) — just like you probably do when playing the paper version of Sudoku.
The ability to get "hints" when you get stuck (which simply means a number gets filled in automatically for you).
I don't take the game seriously enough to use any of those features, but I like that they're available!
Heck, when you put the wrong number in a square, it appears red — which means incorrect. When you place a number into a square correctly, the number is colored yellow.
As far as multi-player games go (not "live online"… but rather with many players in the same room), this is one of my favorites.
Why? Because everyone knows how to play Yahtzee — from kids to adults. So this is a simple, yet fun game to break out in a group and trust that everyone you're with will enjoy it.
Up to 5 people can play against each other. Oh, and it's FREE.
Some things I like about iYacht:
The game shows you all of your scoring options with each and every roll… you never have to guess! But that doesn't mean that the game picks for you. You still have to choose what you want to take, or what you want to cross off.
You don't have to click to different screens each time.
From the moment that you first roll the dice, you can see all of your dice (including those you've held onto and those you're re-rolling), along with your entire score sheet. It shows what you've already taken points for, as well as what your options are for the current roll.
My Favorite iPhone Word Games
As far as word games go, these 2 are my favorite.
I have to admit, even though I've had them for a couple years now, and I dabble with them every once in awhile, I still have a lot to learn about how to get the most from these 2 word games.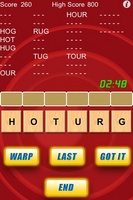 #1 – WordWarp is the easiest. It's similar to Boggle.
Here's how you play WordWarp:
You get a bunch of letters and you try to make as many words as you can using as many letters as you can.
You can mix up the listing of letters — similar to the way you move the lettered tiles in a Scrabble game around to try to see new words. WordWarp is extremely simple.
You simply click on the letters that you're given… in the order that actually spells a different word each time. It's a decent way to pass the time. (I have the FREE version, Free WordWarp. It's identical to the paid version of WordWarp, but with ads.)
My high score is a very sad 1790 so far.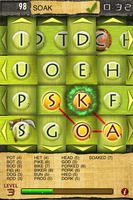 #2 – WordWeaver is a bit advanced as far as word games go. I see the potential. I'm excited when I play it. But I just don't quite get it yet.
Or maybe I get it, but I don't play strategically enough to get the true uniqueness of this game. That's okay, it's still a fun word game. They call it "Scrabble on steroids."
What makes this iPhone game truly unique is the fact that you can:
Change the letters which appear in each of the 4 rows and 4 columns any time you want.
Create a virtually endless number of words. Warning: It's harder than you would think.
Play "beat the clock" because there's a timer.
For this word game, you simply drag your finger across the order of the letters to spell out words.
I have the FREE version, WordWeaver Free. There's also a full version of WordWeaver, but Lite is complicated enough for me!
My high score is only 214 so far.
Download Word Weaver for free.
#3 – An honorable mention goes to Words With Friends.
If I liked playing interactive "live" word games with others online, then I'd definitely be playing!
It looks like so much fun, and it's very popular.
The best part: you can play interactively with multiple people whom you don't know (or friends that you invite to play) — all at the same time.
You can have up to 20 different Scrabble-like games going on at the same time with 20 different people!
There's no timer, you just place your word on the board and wait for a notification that the other person has played their word. So… 1 game between 2 people could actually last weeks, depending on how faithfully each player pays attention to the game. I just don't have an interest in dragging any game out that long.
There's also a FREE version, Words With Friends Classic. That's the one I downloaded and have played a few times.
I don't know if all iPhone games do this or not, but I really like how all of the above games "save" exactly where you were — so the next time you play the game, you're right where you left off.
Other Fun iPhone Game Apps

Those above are my all of favorite iPhone game apps. But I do have a couple of others. I just don't play them as frequently. They're all FREE. They are:
I'm also trying out a handful of iPhone games that are similar to the Catch Phrase board game. They're all FREE. They are: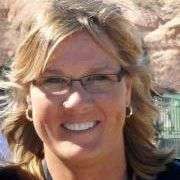 I got my first computer in 1986 and immediately started writing, saving documents, and organizing my entire life on it. Thus began my love affair with gadgets and all things tech. I built my first website in 1998 in old-school HTML code — before websites were "a thing". Blogs weren't invented yet. It was the same year that Google was born. My husband and I created TheFunTimesGuide.com in 2004 — before YouTube, Twitter, Reddit, and Mashable were launched. That was the year Facebook started and 'blog' was the Word of the Year according Merriam-Webster. Ever since then, anytime a new electronic gadget hits the market… I have to have it. (My husband's impulsive nature to try out every new tech gadget invented is even worse than mine!) When I'm not trying out fun new tech gadgets, you'll find me at the corner of Good News & Fun Times as publisher of The Fun Times Guide (32 fun & helpful websites).