This post may contain affiliate links. If you buy thru these links, we may earn a commission at no additional cost to you.
---
There's been a lot of talk recently about the so-called Internet of Things (IoT) — that army of connected devices that power our home, protect our properties, and keep us entertained.
Falling under the IoT umbrella are all of the latest wearable technology trends too! Say what?!
I'm sure you've heard about the Fitbit — which is still one of the most popular wearable technology devices out there.
Wearables that monitor your physical state are great because they enable timely intervention in the event of certain medical conditions.
And devices such as the GoPro camera
can provide a video record of people, events, and places that you've experienced.
But the wearable tech trend doesn't stop there.
So what does this mean for you? Which ones should you pay attention to?
I'm here to help — so I'll share with you:
The meaning of wearable technology.
5 of the best wearable tech devices available.
Which wearables aren't worth your time (or money).
What the future looks like for wearable technology.
What Is Wearable Technology?
Wearable technology is becoming more and more efficient and less obtrusive. It promises to change the way we see and interact with our bodies.
From fitness and health trackers that measure things like muscle fatigue and REM sleep to baby monitors that alert you if your baby stops breathing — IoT gadgets can help you stay healthy and give you peace of mind.
The terms "wearable technology", "wearable devices", and "wearables" all refer to electronic technologies or computers that are incorporated into items of clothing and accessories which can comfortably be worn on the body. These wearable devices can perform many of the same computing tasks as mobile phones and laptop computers. However, in some cases, wearable technology can outperform these hand-held devices entirely. Wearable technology tends to be more sophisticated than hand-held technology on the market today because it can provide sensory and scanning features not typically seen in mobile and laptop devices — such as biofeedback and tracking of physiological function. Generally, wearable technology will have some form of communications capability and will allow the wearer access to information in real time. Source
My friend, Angel (who's not a techie or gadget girl) recently bought the Apple watch. She loves it:
Texting is pretty easy to do on the watch. I also use the fitness tracker which tells me how many calories I've burned, warns me when I've been sitting too long, and tells me how many steps I've taken. The microphone is very limited, so I can't really use the phone feature. And virtually none of the features are available unless I also have my iPhone handy.
Angel bought it for herself after receiving a holiday bonus at work — but she didn't realize it wouldn't work without having her iPhone nearby. She feels with Apple watch's price point starting at $269 (and going up to $17,000, depending on the model), it's a pretty indulgent accessory… but she still loves it!
Hottest Wearable Tech Trends
Have you ever thought, "I wonder what they'll come up with next?!"
I sure have, and the answers are sometimes really cool.
For example, how about a jeans that charge your phone (and flatter your butt)? The brand #Hello jeans come equipped with a genius phone-charging slot above the right back pocket.
If that's not the kind of wearable technology you're looking for — there are lots of other great options.
The hottest devices on the planet are now ones you can place on your wrists, arms, and faces … Wearable tech isn't a trendy pair of headphones, for example, or a digital watch. The new age of wearables tap into the connected self – they're laden with smart sensors, and make use of a web connection, usually using Bluetooth to connect wirelessly to your smartphone. They use these sensors to connect to you as a person, and they help you to achieve goals such as staying fit, active, losing weight, or being more organized. Source
Here are 5 of the best wearable tech items:
#1 – Jawbone UP3 Health Tracker: This is a lightweight bracelet that tracks your heart health, sleep patterns, and activity levels. The UP3 health tracker
 uses bioimpedance to measure your heart rate when you wake up and at regular intervals throughout the day — so you can see how stress and daily activities affect your heart health. UP3 also monitors your sleep and activity levels, while giving you tips on how to get more rest and achieve your fitness goals.
#2 – Owlet Baby Vitals Monitor: Owlet is a smart wireless sock with a sensor that alerts you if your baby stops breathing. Owlet uses a medical technology called pulse oximetry to accurately measure heart rate and oxygen levels. If the readings are abnormal, the device turns from green to red and sounds an alarm. The owlet monitor has been shown to generate 10 times fewer false alarms than regular baby movement monitors. Owlet comes in 3 sock sizes and fits babies up to 1-1/2 years of age.
#3 – Apple iWatch: It's a fantastic smartwatch — as long as you're expecting an iPhone-tied convenience gadget, not a life changing piece of technology. Apple watch
ranks high on the best smartwatch list, but a smartwatch isn't a game changer . Nor is it revolutionary like a smartphone from 10 years ago was. It's just an everyday awesome add-on — truly an accessory.
#4 – Fitbit: It would be an oversight not to include the Fitbit
— one of the longest running fitness trackers. Since 2007, their technology has never just been about building trackers. It's about you — and finding better ways to help you live a healthier, more active life. The fitbit app offers a lot of great features to help with sleep, activities, workouts, and even connecting with friends.
#5 – Whistle GPS Pet Tracker: Whistle is a durable, waterproof, on-collar device that uses live GPS tracking to tell you where your pet is at any time. The Whistle App lets you designate a safe area for your pet, and it immediately sends you an alert when your pet leaves this area — and you can track your pet on the map. Whistle
also tracks your pet's activity levels, sleeping patterns, and long-term health trends — helping you keep your four-legged friends in the best possible shape.
Worst Wearable Tech Trends
After researching wearable technology, these devices repeatedly appeared as not quite worth the investment. To put it bluntly — you might not want to waste your time (or money)!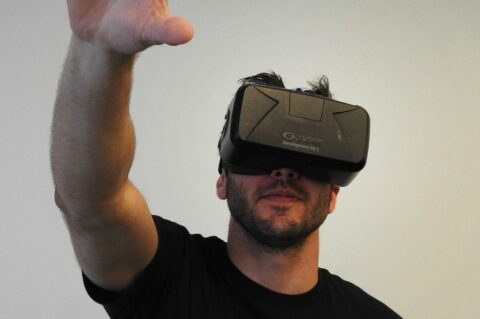 At a recent holiday secret Santa gift exchange — I won the Utopia 360 virtual reality headset. I was very excited about it and am typically quite tech-savvy, but I really struggled to get the device up and running.
My opinion? It took so much time to set up the device, change the settings on my iPhone (so messages and emails wouldn't pop up during use), and I found the directions hard to understand — not to mention downloading the online apps to go with it.
Here are 4 other wearable tech gadgets that fall short:
#1 – Elf Emmit: The Elf Emmit headband is a metronome device
that help you choose your preferred state of mind and body by allowing the device to suggest how your mind should behave and the rhythm at which it operates.
Why it's not worth it: It's unclear whether the Elf Emmit actually does what it claims to do. It may help some people sleep bit better, but it also gives others a headache after only a few minutes of use.
#2 – Kapture: The Kapture wristband is a wearable tech device that you tap as soon as you recognize something worth saving. That simple tap sends the previous minute of audio to your smartphone — where you use the Kapture app to edit the 'klip' and either keep it for yourself or share it with the world.
Why it's not worth it: 60 seconds of recording time is hardly worth it. Plus, if you hear something directly after capturing the last audio clip you want to save — it takes nearly 90 seconds for the Kapture to dump the audio and get back to recording mode.
#3 – Pavlok: The Pavlok wristband is a behavior training device
 that vibrates to reward you for good behavior and administers an electric stimulus to train away bad behavior. Hundreds of people have quit smoking, nail biting, mindless eating, and sleeping in by using Pavlok's apps.
Why it's not worth it: To put it simply — because you get shocked! Beyond that, it's unclear how effective the device actually is at promoting new, better habits. While negative reinforcement has been shown to be beneficial, it's not as beneficial as positive reinforcement.
#4 – Caeden Sona: The Sona wristband
connects to the Caeden app to keep your wellness in balance by tracking physical activity and training your resilience to stress.
Why it's not worth it: BBB files indicate a pattern of complaints concerning sub-standard merchandise, delivery delays, and customer service issues for Caeden. Several consumers allegedly never received their orders. Other consumers claim that the bracelet they received was defective.
10 Embarrassing Technological Failures
The Future Of Wearable Technology
Wondering where things might go from here, in terms of wearable tech? Here are some other cool wearable tech trends and future projections that I found interesting:
The international research firm Gartner estimates that by the end of 2016, there were 3.8 billion connected things out there — smart cars, smoke detectors, door locks, industrial robots, streetlights, heart monitors, trains, wind turbines, even tennis racquets and toasters. By 2020, there will be 25 billion of these smart devices, transmitting tiny amounts of data to us, to the cloud, and to each other. Cisco's outgoing CEO, John Chambers, has boldly proclaimed that there will be 50 billion devices online within 5 years, with a total market worth $19 trillion. Another leader in this sphere, Siemens, has said these smart things are starting to power a fourth Industrial Revolution (after steam, electricity and wired computers). Source
I'm a health nut, a frugal mom, a dog lover, a DIYer, and a gadget girl. Personally, as a post-divorce, working single mom on a budget I have a lot of experiences that I enjoy sharing so others can learn from the things I wish I knew earlier! Professionally, I've worked full-time in a variety of marketing, sales, and editing jobs. You can always find me at the corner of Good News & Fun Times as Managing Editor at The Fun Times Guide (32 fun & helpful websites).