This post may contain affiliate links. If you buy thru these links, we may earn a commission at no additional cost to you.
---
If you think you might be experiencing signs of Carpal Tunnel (or RSI: Repetitive Strain Injury), read Part One of this 2-part series to help you assess the problem first.
Following are a variety of things that you can do to alleviate the pain associated with neck pain and Carpal Tunnel Syndrome by making your work space more ergonomic.
Use these tips to make adjustments in your current work space or to help you when making purchasing decisions on a new items for your home or work office.
Personal and professional treatments and recommendations are also listed.
What Is Ergonomic?
The label "ergonomically designed" is a subjective one.
In fact, there is no regulation of the term ergonomic — meaning that virtually anyone can claim that their product is ergonomic.
You should know that some ergonomic products can even make things worse.
Your best bet is to use the guidelines below to create the most ergonomic space while working at the computer.
Simple Things You Can Do Yourself
Many computer users are in chronic pain that is NOT alleviated by ergonomic changes or physical therapy. The reason is this: You cannot solve a medical problem simply with ergonomics.
The time to invest in an adjustable ergonomic workstation is before you become injured. Act before it's too late, so you will remain pain-free while working at the computer.
First, learn how to determine which factors in your current workstation setup are giving you the most problem, based on the areas of your body where you are having the most discomfort.
Second, try these simple things to make your workstation more ergonomic:
Here are some quick tricks my chiropractor taught me to relieve neck pain. And some neck stretches that I do at the computer regularly.
This video shows how to correctly align your body while sitting:
Professional Help For Alleviating Pain
It is important to treat carpal tunnel syndrome early, because it can be reversed. However, if treatment is delayed, then the symptoms will likely worsen, and surgery may become necessary to reverse the damage.
One popular form of treatment for ongoing sufferers of carpal tunnel syndrome is the injection of steroid medication into the problem areas of the wrist and hands.
Wrist splints and specially-made support gloves are abundantly available in stores these days, however, you should not wear them without the guidance of a doctor first. Most people don't realize that such wrist splints should only be worn at night; never while doing daily tasks. They should also be worn loosely, so as to not restrict blood flow. A treatment plan involving such items must come from a doctor, otherwise, more damage could be done in the long run.
Summary
Correct use of the keyboard and mouse are critical to preventing carpal tunnel syndrome for individuals who work long hours at the computer.
Make sure you follow the above guidelines to achieve the most ergonomic position at the computer.
Let's face it, this is serious stuff! Ergonomics is now being taught at universities across the globe, as well as being offered as part of corporate training.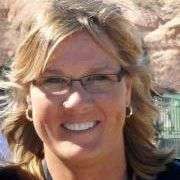 I got my first computer in 1986 and immediately started writing, saving documents, and organizing my entire life on it. Thus began my love affair with gadgets and all things tech. I built my first website in 1998 in old-school HTML code — before websites were "a thing". Blogs weren't invented yet. It was the same year that Google was born. My husband and I created TheFunTimesGuide.com in 2004 — before YouTube, Twitter, Reddit, and Mashable were launched. That was the year Facebook started and 'blog' was the Word of the Year according Merriam-Webster. Ever since then, anytime a new electronic gadget hits the market… I have to have it. (My husband's impulsive nature to try out every new tech gadget invented is even worse than mine!) When I'm not trying out fun new tech gadgets, you'll find me at the corner of Good News & Fun Times as publisher of The Fun Times Guide (32 fun & helpful websites).