This post may contain affiliate links. If you buy thru these links, we may earn a commission at no additional cost to you.
---
Here's why you should have TWO e-mail addresses instead of ONE:
1. To save time logging on and actually reading your e-mail every day.
2. To separate the "junk" from the personal messages you really want to receive.
As you know, your primary e-mail account can become CLUTTERED with "junk" mail in a very short time. The result: It becomes a painstaking process to actually log on and sift through the e-mails you really care to read -vs- those you don't.
In fact, it only gets worse over time, because the more your e-mail address gets "out there" on different lists (and forwarded on to even more lists!), the more it's actually being validated and used by more and more "unscrupulous" spammers and junk e-mailers each and every time.
Such is why you should guard your primary e-mail account with your life, and only give it to those you want to receive very important and very personal e-mail from.
I repeat…. Everyone should have at least 2 separate e-mail accounts. (We have 4… each!)
One should be JUST for close friends and family and nothing else. It should remain free of junk mail, spam, and forwarded e-mails.
Another should be used any time you sign up for something online, for friends who tend to send a lot of e-mails, and for any other instances when you are required to give an email address but you would never want to receive other e-mails from them (selling their product or informing you of updates).
This is the best way to keep your "not-so-important" e-mail separate from your "very important" e-mail. Think about it like this: if you want to hear what someone has to say the very moment they e-mail it to you, then give them your "new" e-mail address.
But if you already receive too much time-wasting stuff from someone, then they should only have your "old" e-mail address, and never even be informed that you have a "new" e-mail address!
Your best bet is to start now… before it continues to get worse and worse.
What's the best free e-mail account we'd recommend?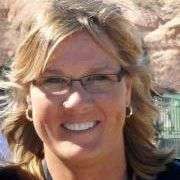 I got my first computer in 1986 and immediately started writing, saving documents, and organizing my entire life on it. Thus began my love affair with gadgets and all things tech. I built my first website in 1998 in old-school HTML code — before websites were "a thing". Blogs weren't invented yet. It was the same year that Google was born. My husband and I created TheFunTimesGuide.com in 2004 — before YouTube, Twitter, Reddit, and Mashable were launched. That was the year Facebook started and 'blog' was the Word of the Year according Merriam-Webster. Ever since then, anytime a new electronic gadget hits the market… I have to have it. (My husband's impulsive nature to try out every new tech gadget invented is even worse than mine!) When I'm not trying out fun new tech gadgets, you'll find me at the corner of Good News & Fun Times as publisher of The Fun Times Guide (32 fun & helpful websites).