This post may contain affiliate links. If you buy thru these links, we may earn a commission at no additional cost to you.
---
Is it wrong to really crank up the sound on TV every time that commercial for HP digital photo printers comes on?
I'm thinkin "No"… since I was flipping around the radio the other day when I happened upon the ACTUAL full-length version of that song. It's pretty good, but I don't really need a whole song of it. Just a few head-bopping moments do me fine.
Turns out it's a 1968 tune by The Kinks called Picture Book. (And to think, I even told Jim: "Listen, hun! Those HP commercials have done so well, they've even released the entire song on the radio now. That group will probly be a one-hit-wonder.")
Watch the full-length HP printer commercial yourself:
(…It's the chorus that I like the best.)
Special Effects In HP Printer Commercials
And I dig the effects in this commercial.
So much, that I invite you to view a couple more HP commercials where they "frame" real-life images as they happen.
I'ts just too, too cool!
By the way, the guy (Francois) is the director of the ad campaign himself!
Turns out, the HP digital photography TV ads won "Campaign of the Year" from Adweek Magazine. I'm not surprised.
Keep your eyes on this site. Odds are, they'll be tossing their newest commercials up there soon! They also explain how the special effects were created.
What I Learned Today…
That they're saying "picture book" in the chorus. I admit, I didn't have a clue as to what they were saying, but I thought it was more along the lines of something like this: "Big John took… a picture of your mama… taken by your papa." (Whoops!)
Guess that goes along with millions of others who are singing the wrong words to popular songs…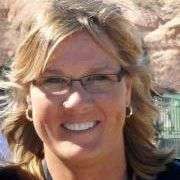 I got my first computer in 1986 and immediately started writing, saving documents, and organizing my entire life on it. Thus began my love affair with gadgets and all things tech. I built my first website in 1998 in old-school HTML code — before websites were "a thing". Blogs weren't invented yet. It was the same year that Google was born. My husband and I created TheFunTimesGuide.com in 2004 — before YouTube, Twitter, Reddit, and Mashable were launched. That was the year Facebook started and 'blog' was the Word of the Year according Merriam-Webster. Ever since then, anytime a new electronic gadget hits the market… I have to have it. (My husband's impulsive nature to try out every new tech gadget invented is even worse than mine!) When I'm not trying out fun new tech gadgets, you'll find me at the corner of Good News & Fun Times as publisher of The Fun Times Guide (32 fun & helpful websites).