This post may contain affiliate links. If you buy thru these links, we may earn a commission at no additional cost to you.
---
Jim and I each purchased a Chromebook Pixel — after outgrowing our first-generation Chromebooks.
Google introduced the Chromebook concept 5 years ago, launching cheap computers that took seconds to start up and would never get bogged down by old files because all the real action would take place remotely, in the cloud. These small, light laptops come packed with super-fast SSDs, or solid-state drives, and most will provide a full day of battery life or more. Chromebook sales grew this year (thanks largely to the K-12 school market). PC sales continued a decline that started in 2012. Source
For the past 3 years, we've used our regular Chromebooks every single time we travel.
Chromebooks are ideal mostly because they're so lightweight and easily packable (…especially on our motorcycle trips where space is at a premium).
However, since our jobs are Internet-based, we often have several tabs open in the Chrome browser at the same time. Many of those tabs include high-intensity graphics and videos — which demands a lot of processing speed. Thus the need for a better, faster Chromebook.
Enter the Chromebook Pixel.
Chromebook Pixel Highlights
We both love our Chromebook Pixel laptops!
Compared to a 'regular' Chromebook, the Pixel:
In addition, the Pixel is a step above the regular Chromebook in terms of speed and performance.
Oh, and it's got the latest generation USB cable that rocks! It's called USB-C or USB Type C. It charges super-fast! And since there's no 'top' or 'bottom' (no differences either way), there's no right or wrong way to insert it.
Here's another great review of the Chromebook Pixel.
Chromebook Pixel Accessories
Unfortunately, Google doesn't have many accessories specifically for the Chromebook Pixel.
So we sought out to find our own best recommendations for Chromebook Pixel covers and bags.
What we learned: anything that fits a Macbook Pro will also fit a Chromebook Pixel quite nicely — because they're both about 13 inches wide.
The case, covers, and bags that we considered:
Jim wanted to be able to tote more things around than just the Chromebook Pixel alone — so he was looking for more of a messenger style laptop bag with a shoulder strap.
I wanted a super-lightweight Chromebook case — rather than a bulky bag. There were some ultra-thin bags with shoulder straps that I considered.
Taipan Superslim 13 by Booq (black)
Jack & Chris Leather Briefcase Laptop Messenger Bag (brown)
CaseCrown Haverford Laptop Messenger Bag (denim blue & brown)
Duzign Rover Laptop Messenger Bag (light brown)
Qishare Tablet/Laptop Briefcase Sleeve Pouch (black)
CaseCrown Alligator Messenger Laptop Case (black)
STM Alley Shoulder Laptop Bag (gray)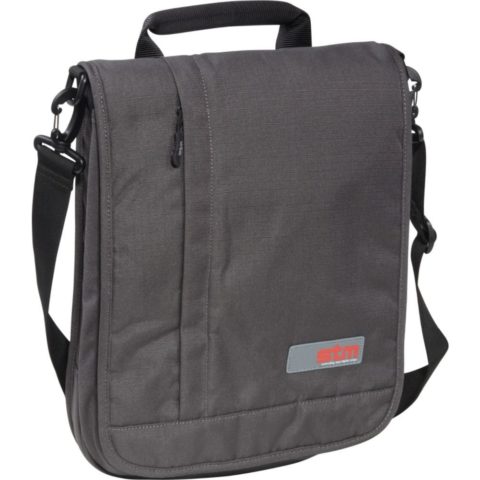 Thule Subterra Attache Laptop Bag (black)
Duzign Carrier Laptop Messenger Bag (black)
The Chromebook Pixel case and bag that we bought:
This is my Chromebook Pixel and Booq Viper Hard Case. It's got great outer protection while still being a 'soft' case. And there are a few interior pockets too.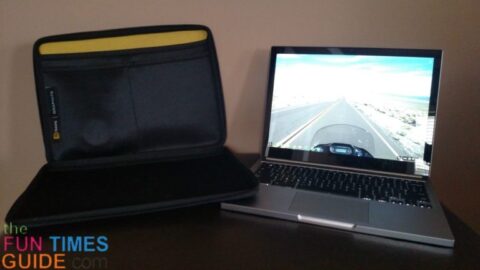 This is Jim's Chromebook Pixel and his extra-roomy S-ZONE Crazy Horse Leather Briefcase Laptop Bag. The reason he chose this one over the other bags above is because this one has more zippered compartments — so small things will securely stay inside even if the bag gets tossed around or turned upside down.
We've been using these for the past several months and we are quite happy with our decisions. Each of them meets our needs perfectly.
UPDATE: Jim recently upgraded to another crossbody / messenger type bag that has a sturdier interior compartment. It's the Jack Georges Voyager large top zip briefcase bag.
He loves it. Mostly because there are plenty of interior pocket compartments and exterior zipper compartments. And the best part: the bag's interior compartment (the part of the bag that he uses the most) has some structure to it — so it's easier to grab things that are inside that section. Plus, this crossbody bag maintains its shape, rather than collapsing into a heap whenever you put it down.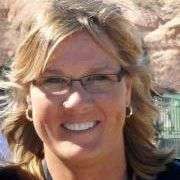 I got my first computer in 1986 and immediately started writing, saving documents, and organizing my entire life on it. Thus began my love affair with gadgets and all things tech. I built my first website in 1998 in old-school HTML code — before websites were "a thing". Blogs weren't invented yet. It was the same year that Google was born. My husband and I created TheFunTimesGuide.com in 2004 — before YouTube, Twitter, Reddit, and Mashable were launched. That was the year Facebook started and 'blog' was the Word of the Year according Merriam-Webster. Ever since then, anytime a new electronic gadget hits the market… I have to have it. (My husband's impulsive nature to try out every new tech gadget invented is even worse than mine!) When I'm not trying out fun new tech gadgets, you'll find me at the corner of Good News & Fun Times as publisher of The Fun Times Guide (32 fun & helpful websites).