This post may contain affiliate links. If you buy thru these links, we may earn a commission at no additional cost to you.
---
When the folks at Staples noticed that I occasionally post my feedback from a product that I'm using (like these laptop bags), they asked if I would be willing to try some specific products and give them some honest feedback.
I mentioned that we only review products that we actually need/use ourselves. I also said that we are currently in the market for an HP printer/scanner/copier to replace our trusty old HP printer and an even older Canon scanner in our home office.
They sent us a WiFi printer to try out!
It's the HP Photosmart 6520 Wireless All-In-One Printer. (It also sends and receives faxes without using a phone line.)
Jim and I are in love with this multifunction printer. It does everything we want… and more.
Here's our review…
First Impressions
The hardest thing about this WiFi printer/scanner/copier was getting it out of the box… literally!
It was taped so heavily, there were actually instructions on how to untape everything and get the printer out of the box safely.
All of the tape was a little intimidating, but it was there for good reason — so nothing got broken or dislodged during shipping.
The printer itself was very easy to set up. It took less than 30 minutes when all was said and done.
It would have been even faster and easier if the HP ePrintCenter website hadn't been down for maintenance at the exact time we were hooking our new WiFi printer up. So we had to install the software, instead of walking through the HP ePrint configuration steps online.
TIP: Pay close attention when you're downloading things like software and apps. For example, we had to uncheck the box that would have automatically installed the Bing Toolbar, among other things.
This Wireless All-In-One Printer Makes Printing A Cinch
The HP Photosmart 6520 is a web-connected printer/scanner/copier — which means it's wireless, so there are no cables connecting this printer to your computer. However, you could connect it nonwirelessly if you wanted (or if you don't have an Internet connection). You would just have to use your own USB cable to make the connection between the two — because there is none supplied.
However the best thing about this multifunction printer is the fact that it's WiFi. So truthfully, you don't even need a computer!
That means you can put it in any room of the house and any computer in the house can print to it. Actually, anyone you give the printer's unique email address to can print to it — whether they're in your home, in your town, in their car, or across the country.
Yep, you can even use this WiFi printer when you're traveling! Plus, friends & family members can print and share things to your HP Photosmart 6520 printer/scanner/copier — if you want them to.
You can even pick a fun email address for your HP printer… so it will be easy for you (and your friends or family members) to remember.
I've heard lots of people use this feature to send & receive photos on the fly with each other. The photos to will automatically be printed and waiting for the recipient — without any interaction on the receiver's part. It's great for grandparents who like to get recent pictures of their grandchildren! I even saw an HP printer rep give out a unique email address on QVC one day. Then they showed the photos they received live on air throughout the segment. Very cool.
So that's how you can email whatever you want to send to this multifunction printer. But sometimes you can't physically attach what you want to send in an email. In that case, you just use this WiFi printer as a cloud printer!
How To Use The HP Photosmart 6520 As A Cloud Printer
As a cloud printer, you (or anyone you privately invite to use it) can simply select this WiFi printer from their dropdown list and print anything to it immediately — without having to send an attachment in an email.
You just need to go through a cloud printing service. (Use your unique HP ePrint email address to identify the printer.)
For example, we use Google Cloud Print for cloud printing — it's free and super simple! It makes it possible to print anything from a Chrome browser or various apps directly to the printer of your choice.
Apple has a cloud printer app for Mac computers that's also free.
We use the HP Photosmart 6520 as a cloud printer most of the time. The only time we use the email method to send items to this HP printer/scanner/copier is when we're out & about and want to print something from our smartphones, or when we're traveling out of town and want to print something back at home.
The HP Photosmart 6520 Is Also A Fax Machine!
One bonus with this multifunction printer is the fact that it's also a fax machine.
You simply have to register with eFax first. (It's free.) Then you can send up to 20 pages a month for free and receive up to 20 pages a month for free.
That's a pretty sweet setup if you don't fax a lot and just need to have faxing capabilities available to you for those rare times when you need it.
For us, the HP Photosmart 6520 fax/printer/scanner is all we need for faxing, printing, and copying from home.
TIP: For our home office printing needs, we started out with eFax to send & receive faxes for free. Then we switched to Ring Central when our faxing volume increased. Plus, we got a toll-free phone number for the business through Ring Central.
Other Cool Features With This WiFi Printer
Jim (who does most of the printing for our home business) was thrilled to see how quick and easy it is to print envelopes, paychecks, and forms on this WiFi printer.
The HP Photosmart 6520 printer/scanner/copier also happens to look really nice on his desk!
It's got most of the standard features that you want to see in a good multifunction printer:
Print 12 pages per minute with black ink; 8.5 pages per minute with color ink
Copy 6.5 pages per minute with black ink; 5.5 pages per minute with color ink
Up to 1200 x 600 dpi print resolution; up to 2400 dpi scan resolution
80-sheet input tray, 20-sheet photo tray and 20-sheet output tray
Print up to 8.5″ x 14″; scan up to 8.5″ x 11″
Windows and Mac compatible
We don't usually print many photos at home, but it's quick and easy to do with this wireless printer/scanner — so now we print more pictures than we ever did in the past. Plus, the quality is really good too, as seen here:
Not only is this multifunction printer affordable, but the HP 6520 ink itself is also quite reasonably priced. As a comparison, we were paying about $40 to replace 2 HP ink cartridges for our Deskjet 812 every few months (#12 HP black ink cartridge and #23 HP color ink cartridge
). Now we pay about $46 to replace 4 HP 6520 ink cartridges #564 HP original black/color ink combo
) every few months.
NOTE: The HP Photosmart 6520 printer/scanner/copier can use both original (or regular) ink cartridges and high yield (or XL) ink cartridges. There are some big differences between regular vs high yield HP printer cartridges. We use the less expensive original/regular ink since we don't print all that much, and the extra ink in the larger cartridges would just dry up before we could use it.
There's an HP ePrint app that, among other things, will let you see the closest HP ePrint printers around you. This is helpful if you're away from home and you need to print something quickly where you are at the moment. Here's the Android version that we use.
Remember, you don't even need a computer in order to use the HP Photosmart 6520 printer/scanner/copier. There's a 3.45″ touchscreen on the front of the machine — so you can print directly from a memory card (by inserting your card into the slot on the side of the printer), or print wirelessly from your phone, or from any computer anywhere!
Downsides To This Wireless All-In-One Printer
Like our other HP printer (an HP Deskjet 812), this one is slightly more noisy than I would like — but it's not a serious issue. It seems like you constantly hear the rotation of the printer heads and inner workings prior to each print job, that's all. And the motor itself is easily heard whenever something is printing.
At first we were confused as to why HP included 20 free apps in their desktop software — like a Disney app, an NBC news app, a crossword puzzle app, and a Comics app, to name just a few. They encourage you to use one or more of these apps to automatically schedule and print unique content on a regular basis — like daily. The idea is to have those printed pages waiting for you each morning, so you would have all of the day's information that specifically interests you. By getting you to print more pages over time, HP is inadvertently getting you to buy more ink over time — so it's a great marketing strategy. But it's hard to imagine that anyone would want to kill so many trees and print so many pages, rather than reading that same content online on a computer or smartphone instead. Whatever. It is what it is — but it's not all that appealing to us.
While this multifunction printer definitely seems like a solid piece of machinery that should last for decades (like our previous HP printer did), the paper catch tray is a little flimsy to me. It's very small, but it sticks up and out — beyond the dimensions of the paper tray itself. This makes it super easy to bump into or catch things on (like your shirt sleeves, the sides of an open jacket or sweater, dangling purse or backpack straps… you get the idea). That said, this little plastic tray has survived 4 years now in my husband's office — where nothing is treated delicately!
The Bottom Line
We hadn't done a lot of research on a printer/scanner/copier before this — so I honestly don't know how it compares to other multifunction printers that are available right now.
But this one definitely does everything we need… and more.
I think this is exactly what we would have picked out on our own. I asked Jim what other features he might have wanted in a printer/scanner/copier, and he said he couldn't think of a single thing.
Jim is a happy camper because he always had to wait for me to get around to scanning things on the slow Canon scanner that's been hooked to my desktop computer for years. It's old. And since I never use that computer, I tend to keep it powered off — so it takes almost 30 minutes just to boot-up each time.
Needless to say, scanning up til now has been a real time-suck. But no more!
Jim can now do all of our scans, as needed, in a matter of seconds! Plus, the ability to print from any computer to this WiFi printer is really convenient. We've use that feature a lot.
Overall, it's a great wireless all-in-one printer with many useful functions for a small business or home office. To top it all off, it's super affordable — even the ink!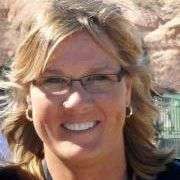 I got my first computer in 1986 and immediately started writing, saving documents, and organizing my entire life on it. Thus began my love affair with gadgets and all things tech. I built my first website in 1998 in old-school HTML code — before websites were "a thing". Blogs weren't invented yet. It was the same year that Google was born. My husband and I created TheFunTimesGuide.com in 2004 — before YouTube, Twitter, Reddit, and Mashable were launched. That was the year Facebook started and 'blog' was the Word of the Year according Merriam-Webster. Ever since then, anytime a new electronic gadget hits the market… I have to have it. (My husband's impulsive nature to try out every new tech gadget invented is even worse than mine!) When I'm not trying out fun new tech gadgets, you'll find me at the corner of Good News & Fun Times as publisher of The Fun Times Guide (32 fun & helpful websites).