This post may contain affiliate links. If you buy thru these links, we may earn a commission at no additional cost to you.
---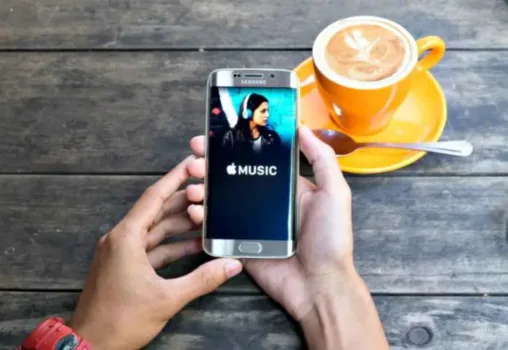 Want to know the quickest way to make your own ringtone… for free?
Previously, we've told you about the mosquito ringtone and the safest sites to download free ringtones — but did you know you can make a ringtone with your own NAME in it? You can!
And did you know that you can also create custom vibration patterns for your cell phone? Yep, you can do that too. (If you're like me and leave your phone on vibrate most of the time but still want to know who's trying to get in touch with you, then you're going to love having customized vibration patterns!)
To see how easy it really is to make your own ringtone, I decided to create a custom ringtone with my name in it.
Let me tell you — it was super-easy, fast, and free!
I'm going to tell you about my experience making ringtones and share the best sites I've used for creating personalized ringtones and custom vibration ringtones.
Of course, different cell phones use different platforms and support different types of files. I'll share the best sites and apps to use whether you have an iPhone or an Android phone.
How To Make A Personalized Name Ringtone
I like using ringtones to distinguish between different callers. It's helpful to differentiate between callers based on the ringtone — especially if I'm expecting a call from someone, or if I'm in the middle of a meeting.
First, I tried My Name Ringtone Maker. I was attracted to how easy it appeared to be to get exactly what I wanted — a ringtone that said my name and was set to a song that I chose.
This is all I had to do to make my name ringtone:
I typed the first letter of my first name, "A" and of course "Amy" came right up. (I actually spell mine A-i-m-e-e but it didn't matter.)
Then a search box popped up with a dropdown menu to choose my favorite song — complete with a search feature. So I mixed mine with "Sky Full Of Stars" by Coldplay.
I was able to download it within seconds — and it was only 118 KB in size.
I like the My Name Ringtone Maker app a lot. The only downside is that they only allow you to download ONE for free. So if you change your mind, you can't go back in to make another unless you want to pay for it.
Here are some other apps that allow you to make your own name ringtone:
How To Make Other Custom Ringtones
If you don't want to use a name in your new ringtone, but you want a ringtone that's different than what comes standard on your phone, here are the best free ringtone apps to find what you're looking for.
And if you're a little more advanced and want to make your own ringtone from scratch, follow these steps:
How To Make Custom Vibration Ringtones
We've been told so many times to "silence" our cell phones right? At the movies, in doctor's offices, at restaurants, in government offices, you get the idea — we're all on vibrate!
And there are plenty of good reasons to keep your phone on vibrate at other times (like when you're having dinner with the family or in a meeting) — where it's totally appropriate to have your phone "out" but set to vibrate.
Since the great majority of us set our phones to vibrate much of the time, it helps to have different vibration ringtones so you can tell who's calling based on the vibration pattern itself.
For starters, here's the simplest way to make your own custom vibration ringtone yourself on any phone:
If you're looking for something a little more sophisticated, following are the steps to make your own vibration ringtones on an iPhone and on an Android phone.
How To Set Custom Vibration Patterns On An iPhone
On an iPhone, it's simple to make your own custom vibration patterns. Here's a great video that walks you through creating customized vibrations from your iPhone settings:
Here are some apps you can use to make your own IOS ringtone vibration tones:
How To Set Custom Vibration Patterns On An Android
At this time, Samsung Galaxy smartphones are the only Android phones that allow you to make your own your ringtone vibration patterns from the settings button — this video shows you how to do it:
Here are some apps you can use to make your own ringtone vibration tones on any Android phone:
The Bottom Line
Keep yourself safe from malware when you're making a new ringtone. That means you'll have to be smart about the types of sites you use to make your own ringtone.
Remember that not all files are compatible with iPhone, Android, or other devices.
And with the holidays approaching you can even make a happy new year ringtone!
Have some fun and try a new ringtone on your phone today. It's easy… and free!
I'm a health nut, a frugal mom, a dog lover, a DIYer, and a gadget girl. Personally, as a post-divorce, working single mom on a budget I have a lot of experiences that I enjoy sharing so others can learn from the things I wish I knew earlier! Professionally, I've worked full-time in a variety of marketing, sales, and editing jobs. You can always find me at the corner of Good News & Fun Times as Managing Editor at The Fun Times Guide (32 fun & helpful websites).