This post may contain affiliate links. If you buy thru these links, we may earn a commission at no additional cost to you.
---
I've been doing this for years…
Whenever I want to get something (pictures, files, spreadsheets) from one computer to another, I just email 'em to myself. BUT… I don't hit "send".
Say what?.
Yep, the secret to fast file and photo transfers is NOT a thumb drive…
Instead, just use a web-based email program!
We've all got one. Most of us use more than one. (Think Gmail, Yahoo Mail, etc.)
I do this all the time to get files from my laptop computer to my desktop computer or vice versa

How To Save Files to Other Devices without a Flash Drive:
Time needed: 5 minutes
Save files to other devices without a flash drive
Start an Email

From the computer where the file you want to transfer resides, simply start an email to yourself. (Actually, you don't even have to type in an email address at all!)

Attach Files

Then, attach as many files, photos, spreadsheets, etc. that you want to transfer to some other computer.

Save as Draft

When you're done attaching all of the files, simply hit "Save as Draft".

Open another Computer or device

When you get to the other computer where you also want those files to reside, open up that same web-based email program.

Open email saved as draft

Then, open the email message that you previously started and "Saved as Draft". You will see all of your attachments at the bottom of the email.

Download Files

Finally, download or save those attachments to this computer.
Wah-lah… you're done! Now, both computers have exact copies of the same documents, files, or photos.
I used to use a thumb drive to transfer files from my work computer to my home computer. But I quickly learned that it was much easier just to do this. Why? Because:
There are no size (MB) limitations, since you're not actually "sending" an email.
There's no need to fumble around with an extra gadget like a thumb drive.
There are no worries about USB versions or compatibility issues.
And the best reason: You don't have to keep track of a thumb drive all the time.
Of course, if you use a desktop program for your email (like Outlook or Outlook Express), you could do the same thing. But you would actually have to SEND the email to yourself. That's because the draft would only reside on the computer that you wrote and saved the email on.
…Reason # 182 why I love web-based email programs!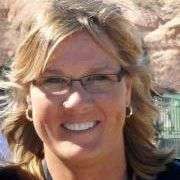 I got my first computer in 1986 and immediately started writing, saving documents, and organizing my entire life on it. Thus began my love affair with gadgets and all things tech. I built my first website in 1998 in old-school HTML code — before websites were "a thing". Blogs weren't invented yet. It was the same year that Google was born. My husband and I created TheFunTimesGuide.com in 2004 — before YouTube, Twitter, Reddit, and Mashable were launched. That was the year Facebook started and 'blog' was the Word of the Year according Merriam-Webster. Ever since then, anytime a new electronic gadget hits the market… I have to have it. (My husband's impulsive nature to try out every new tech gadget invented is even worse than mine!) When I'm not trying out fun new tech gadgets, you'll find me at the corner of Good News & Fun Times as publisher of The Fun Times Guide (32 fun & helpful websites).