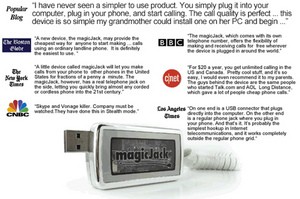 You've probably heard about Magic Jack.
It's a USB device you plug into the USB port on your desktop computer or laptop computer, and then you never have to pay for phone calls again!
It works through your computer's high-speed Internet connection to deliver your calls (both local and long distance) to a standard land line phone in your home.
Sound too good to be true? Well, it's not.
The following video is a personal review from someone who's used MagicJack for 1 year, and he says it really works!
These videos show how Magic Jack works:
Some points worth noting:
Once you buy the Magic Jack unit itself (for around $40), there's an annual feel ($40 the first year, $20 thereafter). If you look at the amount you're currently spending on your phone bill (not to mention the long distance calls alone), it's probably going to be worth it. Many say the huge cost savings makes the Magic Jack a good purchase.
You will need to leave your computer on (and connected to the Internet) 24/7. That way, you can make and receive calls without having to boot up your computer each time. For us, this isn't an issue. We leave our computers on 24/7.
In the event of a storm, or a problem with your Internet service, your Magic Jack phone line will be down as well. Your phone calls are 100% reliable on your Internet connectivity.
If you're trying to save money on your monthly bills — including your cell phone and long distance phone calls — then the Magic Jack may be worth trying. However, if your Internet is down a lot or not very fast, the MagicJack is probably not for you.