This post may contain affiliate links. If you buy thru these links, we may earn a commission at no additional cost to you.
---
With our latest purchase of a mega-sized 36-inch duffel bag on wheels for Jim's travels, I've come to the realization that Jim has more padded bags for electronics than the average human being should have a right to own.
I guess that's because he's got more electronics and gear than the average human being though.
That, and he needs to have a compact, lightweight, and portable means of getting all of his tech gear from one place to another.
Plus, when you put 2 gadget-friendly people in the same household… watch out! We have all kinds of fun (and practical) tech bags coming out of our ears. And we use most of them on a daily basis, too.
 #1 – Camera Bag
I think the very first cool tech bag we ever bought Jim was this one.
He used it to tote his digital camera (then a Canon Digital Rebel D300) and his handheld video recorder (a Canon ZR200 Camcorder) to and from IHRA drag racing events.
We used to think this was the coolest tech bag ever. A legit camera bag that looks like a backpack?… C'mon, how FUN is that?!
We thought we were so cutting edge when we bought it. And we used it for years… until we "upgraded" (or should I say "modernized") our camera gear recently.
About the time he upgraded his Canon D300 camera to a Canon Digital Rebel XTI, Jim also started acquiring more camera lenses, a high-powered flash, more cords & adapters. This meant that a new camera bag was in order!
He chose the Naneu Pro Camera Backpack.
Jim actually went with the K2 version, instead of the K3 pictured here — because the K2 doesn't have the bulky waist-belt support.
Let me just tell you… this tech bag kicks butt. And talk about hidden compartments and extra features! There's a pull-out "raincoat" for the bag that always stays attached and tucked away. There's a huge compartment for a full-size tripod that's positioned in such a way that it doesn't take up much physical space. There are bungies and pockets everywhere you look. That type of extra storage is highly versatile for stuffing and tucking things on the bag at the last minute.
Now he can tote around his full size digital SLR camera, his palm-sized video camera, and all of their respective add-ons (flashes, lenses, cords, adapters, cleaners, etc.) without breaking his shoulder.
One of the biggest strengths of this tech bag is its ergonomic design. It's a little longer, and less boxy than most camera bags — so you can lean to the left or right, and the bag stays put!
#2 – Laptop Computer Bag
When Jim bought a new laptop, he needed a new laptop computer bag that was lightweight and easy to carry around. He chose this tech backpack.
It's perfect! It's huge and has lots of great compartments. He uses every one of 'em too. Mostly for all of the cords, adapters and chargers that plug into his computer when he's on the go (…which is a lot).
His laptop has a larger size screen (19″), and it still fits inside this tech bag! Yep, it zips up just fine. It's a tight fit, but he's used this bag for years to transport his laptop cross country and it has yet to tear a hole or snag, or break in any way. This is one heck of a great tech bag!
And, check out all of the great reviews for this tech backpack. It's not every day that you find so many… and such glowing praise for something.
For the record, here are the ladies computer bags that I chose for my Dell laptop… and my Chromebook.
#3 – Rolling Duffel Bag
Goodbye, square suitcase. Hello, rolling duffel bag!
With all of Jim's computer bag's hip new plugs, pockets, and pouches made to simplify life on the go, he decided it was time to modernize his travel luggage as well.
Big square suitcases just weren't cutting it anymore. They were simply too big, and bulky, and not flexible for people on the go a lot. He needed one bag — one big bag — that could hold everything he needed for a 2-week trip AND take a beating AND live to tell about it.
Fortunately, I found a fun 2-piece set at Sam's Club one day. It's not your typical set of luggage. There's a luggage-looking backpack that's extra long (with a drop-down compartment for shoes, dirty clothes, etc.) and yet lightweight. And then there's the 30-inch rolling duffel bag.
That duffel bag on wheels has been a lifesaver for him on his many trips. He is very rough on luggage (as are the airport personnel) — mostly because he doesn't always travel conventionally. He frequently hops from motorhome to motorhome… race car hauler to RV… rental car to airplane… and it's not at all unusual for his luggage to spend weeks in the back of the race car trailer on occasion.
This one rolling duffel bag has taken a beating, yet it's held up remarkably well. He has used this one rolling duffel bag regularly since the day we bought it nearly a decade ago. It's made by Skyway. (Great luggage, but they don't give a hoot about customer service — as evidenced by my emails that went unanswered.)
So we went out in search of some durable luggage that takes a licking.

Here's what we bought Jim: The mack-daddy of all travel bags… a 30″ duffel on wheels!
It's the REI Tech Beast Rolling Duffel. (By the way, it's not red… it's rust. Jim hates red bags.)
This bag was sorely needed to replace the Skyway 30″ rolling duffel bag that has lasted far longer than it should have as a primary piece of luggage.
We loved the 2-piece Skyway set, but they have discontinued this particular model — and their other lines don't seem nearly as durable (this one is the closest to it) — so it was time to shop around.
Some Larger 36-Inch Bags We Considered…
First, we thought he should upsize and try a 36-inch rolling duffel like these:
That is, until we realized that 36 inches was golf bag size! That, and the fact that you have to pay more to check luggage of that size on most airlines.
We know from experience that Jim's 30-inch rolling duffel passes all airline luggage restrictions (even though they questioned him a few times) — so we felt safer getting another 30-inch rolling duffel bag.
Our Top Choices For 30-inch Rolling Duffels…
In the end, we are glad we settled on a 30-inch rolling duffel like these:
We are really happy with the 30-inch REI bag we chose. But to be honest, I'm pretty sure we would've been just as happy with any of the above. Except maybe the last one — the ORV Trunk — because it was a little too over-compartmentalized. Good for really super-organized people, but a bit overkill for Jim.
In Case You're Wondering, I Got A New Tech Bag Too!

For my laptop and other tech gear, I got a red tech backpack like Jim's. (Love it!) It's also got tons of great reviews. This one is the Maxxum version of the Swissgear by Wenger laptop backpacks.
And for my own digital SLR camera (a Nikon D80), I got a smallish purse-looking camera gadget bag.
I don't like the bulkiness of a backpack for a camera. I mean, the DSLR camera is big enough… who wants to look like a professional photographer at every event?
This small camera bag is deep enough to hold my bulky camera with the lens attached, a full-size flash, an extra battery and charger — and whatever else I feel like toting around (like a small wallet, cellphone, gum, tissues, etc).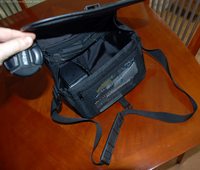 Yep, just like a purse — but much less glamorous.
Unlike most camera bags that just fall right off your shoulder, this one stays in place, partly due to the extra long shoulder strap.
I also think the shape of the bag has a lot to do with that. It's slightly deep while it's also narrow and hugs the body — much like a purse.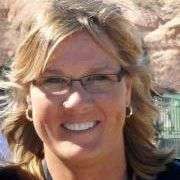 I got my first computer in 1986 and immediately started writing, saving documents, and organizing my entire life on it. Thus began my love affair with gadgets and all things tech. I built my first website in 1998 in old-school HTML code — before websites were "a thing". Blogs weren't invented yet. It was the same year that Google was born. My husband and I created TheFunTimesGuide.com in 2004 — before YouTube, Twitter, Reddit, and Mashable were launched. That was the year Facebook started and 'blog' was the Word of the Year according Merriam-Webster. Ever since then, anytime a new electronic gadget hits the market… I have to have it. (My husband's impulsive nature to try out every new tech gadget invented is even worse than mine!) When I'm not trying out fun new tech gadgets, you'll find me at the corner of Good News & Fun Times as publisher of The Fun Times Guide (32 fun & helpful websites).