This post may contain affiliate links. If you buy thru these links, we may earn a commission at no additional cost to you.
---
I've been using Dropbox for over a year now, and I love it.
I mentioned it in passing when I wrote about my favorite Android apps for Droid phone newbies.
Since then, a number of my friends have signed up and most are surprised by how much they use Dropbox on a regular basis now.
I'm sure there are others who may have heard about Dropbox, but aren't sure what exactly to use it for.
So I thought I'd take a few minutes to explain why I like Dropbox so much and highlight some of the fun ways you can use it.
Why I Like Dropbox
#1.  It's FREE! (…and the amount of free storage you get is quite significant: 2GB)
#2.  It's a simple way to share personal files & photos with friends (…instead of having to share everything publicly in the Cloud)
#3.  It's a simple way to share professional files & photos with business colleagues  (…instead of having to log in to an FTP program or use a program like PC Anywhere)
#4.  It's a simple way to sync files & photos on multiple computers (…instead of using a thumbdrive to manually transfer things)
#5.  It's a good way to backup your most important files & photos (…the syncing takes place automatically; you don't have to remember to back things up)
#6.  It automatically recognizes whenever you remove a file from a folder (…syncing files between computers  is constant and seamless, you don't have to tell Dropbox to update your files each time)
#7.  In addition to running in the background on any computer that you designate, you can also view your Dropbox files any time online at Dropbox.com (…great if you access Dropbox at the office)
#8.  There's a Dropbox app that makes sharing things from your mobile phone a cinch (…here's the iPhone app – Blackberry app – Android app)
If you decide to try Dropbox and use this referral link, then you and I both get an extra 250MB of storage space! (On top of the standard 2GB that's already FREE. It's their incentive for helping to spread the word about Dropbox.)
Fun Ways To Use Dropbox
Even More Ways To Use Dropbox 
The ideas mentioned so far are super simple and great for those who are using Dropbox for the first time. The following links explain how to do each of the things above. Plus, you'll find dozens of other — more advanced — uses for Dropbox. Have fun!…
How To Hack Your Dropbox: 5 Amazing Mashups
8 Useful Dropbox Tips & Tricks
Here's how to install and begin using Dropbox, step by step.
The Story Behind Dropbox
Dropbox: The Inside Story Of Tech's Hottest Startup
How Dropbox Turned Down The Almighty Apple And Took Off
How Dropbox Turned Down Apple and Took Off | Forbes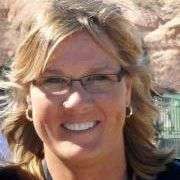 I got my first computer in 1986 and immediately started writing, saving documents, and organizing my entire life on it. Thus began my love affair with gadgets and all things tech. I built my first website in 1998 in old-school HTML code — before websites were "a thing". Blogs weren't invented yet. It was the same year that Google was born. My husband and I created TheFunTimesGuide.com in 2004 — before YouTube, Twitter, Reddit, and Mashable were launched. That was the year Facebook started and 'blog' was the Word of the Year according Merriam-Webster. Ever since then, anytime a new electronic gadget hits the market… I have to have it. (My husband's impulsive nature to try out every new tech gadget invented is even worse than mine!) When I'm not trying out fun new tech gadgets, you'll find me at the corner of Good News & Fun Times as publisher of The Fun Times Guide (32 fun & helpful websites).