This post may contain affiliate links. If you buy thru these links, we may earn a commission at no additional cost to you.
---
Don't you hate it when someone always says, "Remind me to…" or "Don't let me forget to…"
I have 2 friends who do this all the time. Okay, one in married to. The other shall remain nameless.
I always wonder… why do they need ME to remind them of things? I mean, we're living in a high-tech world. And my friends are pretty tech-savvy like me. So why do they need to use me to keep their To Do Lists in order?
Don't do this to your friends!
Do this instead…
Use GTasks (Google Tasks) to take quick notes on the fly — wherever you are  — without logging into anything! It's FREE.
GTasks: Best Task Manager
I've used Google Tasks on my computers for years, and I've used the GTasks app on my phones for years as well. (First, on my iPhone. And now on my Android phone.)
It's a super-simple app that's great for:
Taking notes
Scheduling appointments
Setting reminders for things in the future
Sharing tasks with friends, family members, or work colleagues
Keeping your Calendar up to date
…all on the fly, right from your phone!
It's the best task manager around.
Plus, it syncs with your Google account — so whatever you add, change, or remove from GTasks on one computer automatically shows up correctly on any other computer you log into, as well as on your phone. It couldn't be any easier.
Unique Ways To Use GTasks
I currently have 8 different lists saved in my GTasks! (There's no limit that I know of. And you can quickly and easily switch from list to list.)
Each one is more or less a checklist of things that I want to do…take with me… or buy. They are:
RV packing list
Motorcycle trip packing list
Tent camping packing list
Random things to pick up when they go on sale
Grocery shopping list
Personal notes / facts / tidbits that I want to have access to at all times
Lists of products to try that have been recommended by others
My current To Do List
What makes it so easy to use GTasks on the fly is the fact that you can install the app's widget right on the homescreen of your smartphone.
So your notes are always staring you right in the face every time you look at your phone. And, as I said, it's easy to add, change, or remove an item or an entire list on the fly. You can also choose different sizes and shapes for the widget itself.
With GTasks, you can set due dates (even specific times) if you want to for each individual item. The items on my lists usually don't have set times when they need to be done by, so I rarely use the date & time feature. But it's handy if scheduling — or syncing with your Calendar — is important to you.
Finally, I like the ease with which you can reorganize items on your lists (from any computer or your phone). You just drag to move them around.
If you like GTasks, then you'll love these fun ideas:
#1 – Did you know that you can open your GTasks right from Gmail as well? Yep. Simply click the word Gmail (upper left corner) and you can select Tasks (or Contacts or Gmail) right there!
#2 – At the recommendation of Matt Cutts, I recently downloaded another related Chrome browser extension that I use on my laptop and desktop computers. It's called New Tab To Tasks. With this extension, it's easy to see all of my task lists with just a click in the browser on a larger computer screen. It's the ultimate online to do list.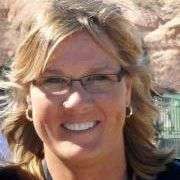 I got my first computer in 1986 and immediately started writing, saving documents, and organizing my entire life on it. Thus began my love affair with gadgets and all things tech. I built my first website in 1998 in old-school HTML code — before websites were "a thing". Blogs weren't invented yet. It was the same year that Google was born. My husband and I created TheFunTimesGuide.com in 2004 — before YouTube, Twitter, Reddit, and Mashable were launched. That was the year Facebook started and 'blog' was the Word of the Year according Merriam-Webster. Ever since then, anytime a new electronic gadget hits the market… I have to have it. (My husband's impulsive nature to try out every new tech gadget invented is even worse than mine!) When I'm not trying out fun new tech gadgets, you'll find me at the corner of Good News & Fun Times as publisher of The Fun Times Guide (32 fun & helpful websites).