This post may contain affiliate links. If you buy thru these links, we may earn a commission at no additional cost to you.
---
I heard about this from a fellow blogger on Twitter. (I'm @FunTimesGuide)
I immediately did a quick search in the Google Play Store for an app called Google Rewards and found this:
Answer quick surveys and earn Google Play credits with Google Opinion Rewards, an app created by Google Consumer Surveys.
So, you earn monetary credits in the Google Play Store for every brief survey that you answer.
I signed up about 4 months ago. Now I have $24.99 in Google Play credits that I can use on anything in the Google Play Store!
I've found that each survey takes less than 1 minute to complete.
How Much Do You Get Paid… Exactly?
The most common reply after completing a survey is:
Thanks! 25 cents has been credited to your Google Play account.
That's typically the payout for answering 1- or 2-question surveys that are super simple: 25 cents.
Sometimes, if there are 3 or more questions, the payout is higher — anywhere from 50 cents to $1.00, in my experience.
Even for those (rare) longer surveys, the questions are so simple that you can complete the entire survey in less than 2 minutes.
What Are The Survey Questions Like?
These are some of the Google Rewards survey questions I've received:
Within the last week, did you travel away from your home town and eat a meal at a restaurant?
Do you own a smart phone or wireless plan?
Which of these types of snacks do you usually buy for your household?
Have you purchased a new car within the last 6 months?
Which logo do you like better?
The questions almost always lend themselves to a single Yes or No response.
Sometimes, there will be a second question something like this, "…If yes, which one?"
They say that you will receive a survey about once a week, on average.
I find that I'm receiving surveys at least 2 a week — sometimes more. (Which is a good thing… more Google Play credits!)
TIP: If you keep your "location history" turned ON on your Android phone, then you'll get even more surveys. Those are basically about the places you've visited recently.
More Reasons This Is A Fun App
I like the fact that you don't have to go anywhere to see if surveys are available to you — you simply receive a drop-down notification on your Android phone.
I can't say enough about this awesome app.
Rarely do you get an immediate and tangible reward for using an app. This one is fun… and profitable.
Personally, I use my Google Play credits mostly to buy music and movies.
And, while I typically only use FREE apps on my smartphone, it's nice to know if there's ever one that I want to purchase then it will be FREE for me now! I also like to use my Google Play credits to buy the pro (ad-free) version of a FREE app that I've been using for ages.
UPDATE:
I've made $102.09 in Google Play credits in my first year-and-a-half with this app. (There's a History tab, so you can see what each survey paid, as well as a cumulative total of your Google Play credits earned.)
If you need a second opinion on this cool app that sounds too good to be true, check out finance guru Clark Howard's article: The Way To Get Paid For Surveys That Isn't A Scam.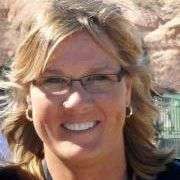 I got my first computer in 1986 and immediately started writing, saving documents, and organizing my entire life on it. Thus began my love affair with gadgets and all things tech. I built my first website in 1998 in old-school HTML code — before websites were "a thing". Blogs weren't invented yet. It was the same year that Google was born. My husband and I created TheFunTimesGuide.com in 2004 — before YouTube, Twitter, Reddit, and Mashable were launched. That was the year Facebook started and 'blog' was the Word of the Year according Merriam-Webster. Ever since then, anytime a new electronic gadget hits the market… I have to have it. (My husband's impulsive nature to try out every new tech gadget invented is even worse than mine!) When I'm not trying out fun new tech gadgets, you'll find me at the corner of Good News & Fun Times as publisher of The Fun Times Guide (32 fun & helpful websites).