This post may contain affiliate links. If you buy thru these links, we may earn a commission at no additional cost to you.
---
In the 16+ years that Jim and I have been website developers, our computers have remained 100% virus-free.
That's saying a lot because we are both on our computers 24/7. It's how we make our living.
However…yesterday, I did something stupid that infected my computer with malware — for the first time ever!
Here's how I got rid of it in just a few minutes — before it did any damage to my computer or my online identity…
How I Dodged A Computer Virus
#1 – For starters, I always have AVG (the free version) running in the background on my computer.
That program automatically alerted me within seconds of the malware arriving on my computer. It prompted me to "move the file to the AVG Virus Vault" — which I immediately did.
According to AVG: "When the file is moved to the AVG Virus Vault it is deleted from its original location, coded, and then saved in a non-executable file in a hidden folder. Your PC is then no longer infected."
What a relief! I immediately felt safe again.
And it was good to know so quickly that my computer was 100% safe again.
#2 – Next, I ran a free software program called Housecall by Trend Micro.
Anytime I fear that I may have clicked on something suspicious or I sense that my computer is running slower than normal, I always run Housecall just to make sure that my computer hasn't been infected with a virus or malware.
Whew!… Nothing found. (Because I had already removed the infected file from my computer with AVG.)
#3 – Finally, just to be safe, I manually started a full security scan of of my computer using AVG.
It found nothing. (Another sigh of relief!)
#4 – Then, because I'm super paranoid of things slipping through the cracks, I ran Housecall yet again.
It found nothing. (Peace of mind at last.)
TIP: When you're downloading Housecall for the first time, be sure to choose the "get housecall now" button NOT the "or get trend micro internet security for free" button! That's a different free trial that requires your name and email address. The free online scan requires none of that. You simply download the housecall exe file and run that to scan your computer within minutes. (It took 10 minutes for mine to finish.) Here's step-by-step how to use Housecall, TrendMicro's free online virus scanner.
Best Programs To Prevent A Computer Virus
Those 2 programs (AVG antivirus and Housecall online virus scan) aren't 100% foolproof, but they are 2 excellent tools to have in your arsenal against computer viruses and malware.
The Housecall program automatically updates itself to reflect all of the latest viruses, worms, Trojans, and spyware known before you run it each time.
The AVG program only updates at a time that you schedule it to run updates. So be sure to check the appropriate box under "settings" so it will notify you every time an update becomes available.
Beyond that, I have my AVG program set to "scan on computer startup." So, as long as I remember to manually shutdown my computer (rather than just let it hibernate/sleep all the time), then a computer virus scan is performed on my computer regularly.
In case you're wondering, both programs are highly rated by everyday users like you and me, as well as by computer experts. Here's proof:
 Here's how to use Trend Micro Housecall to scan for viruses.
How Malware Got On My Computer
Okay, so how did I — an experienced and usually safe computer user — get this malware file on my computer to begin with?
I'll share every nitty gritty detail, so you can see how easy it is to be fooled when you're surfing online.
When I returned home from vacation, after several weeks away from my computer, I noticed that an Adobe Acrobat icon popped up in my taskbar (lower right corner of my computer screen) notifying me that an Adobe update that I initiated had failed. It was completely legit. But I didn't need to use Adobe at the moment, and since I was working on something important at the time, I didn't re-run the update. I just forgot about it — fully intending to re-run it and install the Adobe update at a later date.
Fast forward 3 weeks later. I was on my cellphone scanning through my Facebook newsfeed and clicking articles here and there to read. One of them was on what looked like a reputable website for parents. I clicked to read their article about "fun activities for kids." It was filled with great tips that I wanted to share on one of my Pinterest boards. I also wanted to jot down some of the specific tips from the article — but it was late at night and I didn't feel like reading it that closely at that moment. So I emailed a link to that article to myself.
Next morning, I opened that link and landed on the website that I remembered. But this time, before I was able to see all of those "fun activities for kids" I got a full-screen pop-up saying my Adobe Acrobat reader was out-of-date and to click here to update now.
Remember, I already knew my Adobe Acrobat was out-of-date — so this made perfect sense to me. I also know that there are often difference in the way that pages are displayed on mobile devices vs desktop screens — so I figured "this article must just be rendering differently now that I'm on a desktop computer (actually a laptop)."
Without even thinking twice, I clicked to update Adobe. AS I WAS CLICKING THAT BUTTON… I saw "this site is in no way affiliated with Adobe blah blah blah blah."
Oh no! I knew immediately that I had done something bad (stupid!) and I had to get that file off my computer right away.
Within seconds of that file arriving in my "downloads" folder, I got a pop-up from my antivirus program (AVG) notifying me that an infected file was on my computer… did I want to move it to AVG's Virus Vault or not? I quickly clicked "Yes!"
Then I ran the Housecall program by Trend Micro that I mentioned above. And I got the all-clear.
So, take it from me… it's easy to be fooled into thinking you're doing the right thing online.
Even a computer-savvy person like me — who takes all the precautions and warns all of her friends and family about what NOT to do — can be misled and persuaded to do the wrong thing.
No matter how careful you think you are, it's up to you (and me) to take it up a step and be even more vigilant and aware of what we're clicking on BEFORE we click.
Must read: 5 Ways To Protect Your Computer Against Viruses And Malware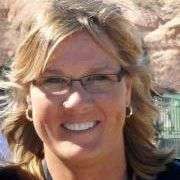 I got my first computer in 1986 and immediately started writing, saving documents, and organizing my entire life on it. Thus began my love affair with gadgets and all things tech. I built my first website in 1998 in old-school HTML code — before websites were "a thing". Blogs weren't invented yet. It was the same year that Google was born. My husband and I created TheFunTimesGuide.com in 2004 — before YouTube, Twitter, Reddit, and Mashable were launched. That was the year Facebook started and 'blog' was the Word of the Year according Merriam-Webster. Ever since then, anytime a new electronic gadget hits the market… I have to have it. (My husband's impulsive nature to try out every new tech gadget invented is even worse than mine!) When I'm not trying out fun new tech gadgets, you'll find me at the corner of Good News & Fun Times as publisher of The Fun Times Guide (32 fun & helpful websites).