This post may contain affiliate links. If you buy thru these links, we may earn a commission at no additional cost to you.
---
I took the plunge… I shelled out the $19.95/yr for access to Yahoo's advanced email features at the same time that I upgraded (for FREE) to Yahoo's new Mail Beta version.
I'm glad I did, on both accounts.
Here's why…
I LOVE being able to check my email from ALL of my many different e-mail accounts in one place… and from any computer!

Plus, I can now send email from any of those accounts as well.
There are lots of little "bonuses" that I enjoy as well, but I primarily did it for the two reasons mentioned above.
One big "plus":
There's no more annoying "timed out" issues, where you have to log into Yahoo with your password again and again. Oh, and there are no more ADS!!!
One big "minus":
There needs to be a way for Yahoo to check all of your e-mail accounts for new mail automatically — say, every 5 minutes or so. They say it's a standard problem with POP3 email accounts in general — there's no way to "push" email to you unless you use a standalone program like eprompter. Only, eprompter currently doesn't work with Yahoo's latest version: Yahoo mail beta. (For the record, your mail on Yahoo's primary account is automatically checked every couple of minutes, but this doesn't apply to any non-Yahoo accounts you've set up.)
Here's a great review of Yahoo's e-mail plus program.
Here are a few cool things about Yahoo's new Mail Beta program (even the FREE version) that I noticed:
The innerface is much more modern and simple. It's just like any other windows-based program now… just drag & drop, open things in tabs, etc.
It's also got a built-in feed reeder (or aggregator) that's a cinch to use!
The calendar ticker at the bottom of the screen is way cool for keeping upcoming appointments & reminders right in front of your eyes.
You can even "try it" with just a click. Have a look around & experiment with a few things… then switch back to the old way if you don't like it. It's just a simple click back to the "old" Yahoo mail.
One thing I wish…
I wish that Yahoo would modernize its Notepad features!
Yahoo Notepad is still dinosaurish in design and functionality. This doesn't stop me from using it though. I love having ALL of my personal notes and ideas categorized for me and accessible from any computer.
Check out this screencast of Yahoo's new Mail Beta program.
Here's a great review and interview with Ethan Diamond of Yahoo.
RELATED: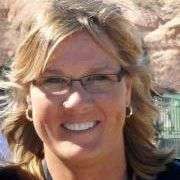 I got my first computer in 1986 and immediately started writing, saving documents, and organizing my entire life on it. Thus began my love affair with gadgets and all things tech. I built my first website in 1998 in old-school HTML code — before websites were "a thing". Blogs weren't invented yet. It was the same year that Google was born. My husband and I created TheFunTimesGuide.com in 2004 — before YouTube, Twitter, Reddit, and Mashable were launched. That was the year Facebook started and 'blog' was the Word of the Year according Merriam-Webster. Ever since then, anytime a new electronic gadget hits the market… I have to have it. (My husband's impulsive nature to try out every new tech gadget invented is even worse than mine!) When I'm not trying out fun new tech gadgets, you'll find me at the corner of Good News & Fun Times as publisher of The Fun Times Guide (32 fun & helpful websites).