Check this out…
My favorite computer guru, Steve Bass, recently mentioned a new (possibly better) way to go wireless in your home or office.
I passed the info onto Jim and he's diggin' it.
We're probably going to try this.
Here's the scoop…
How We Compute Wirelessly Right Now
We currently use a wireless router that acts as a network hub for our 4 computers.
From there, Jim's desktop, Jim's laptop, and my laptop can all tap into the Internet wirelessly — thanks to our (secured) wireless network.
The only problem: Interrupted service.
For some reason, all 3 of those computers will mysteriously go offline on occasion. Sometimes it's only for a few seconds at a time. But sometimes, it's for as much as 30 minutes or so. And when you're running a home-based business online, that's not a pleasant experience.
By the way, my desktop computer is hard-wired for round-the-clock Internet access on its own, and the Internet never goes down on that computer. In case you're wondering, Internet down-time on the other 3 computers can always be restored by rebooting the router manually… or by waiting long enough for the problem to "fix itself".
Most likely, the interruptions can be blamed on our old, outdated wireless router. It's only a couple years old, but perhaps it's just not up to par with the most current technology, speeds, and Internet protocols.
The truth is, we don't really know why we're getting so many periods of interruption these days. But our level of frustration is steadily rising — each time it happens — and Jim is eager to try something new.
Plug In & Go Wireless… Say What?

The Actiontec Ethernet Adapter looks like a whole new way to go wireless. You just plug it into a standard wall outlet. And since it is powered by the electric lines built-into your house, it should be fairly reliable.
It's based on the HomePlug "powerline networking" experience. And it looks like there are lots of great products on the market already for this type of technology — Jim & I had just never heard about them until now.
Here's a visual description showing how the product works through the electricity in your house.
We'll let you know how it goes after we install ours. Not sure if we're waiting to put this into our new log home, or if we'll give in and try it now — to alleviate our frustrations with down-time on the Internet.
We love the fact that it's like your computer is hard-wired to the Internet, without having to run wires. And hopefully it's faster and has fewer interruptions than our current wireless router does. It has advanced security features as well.
Stay tuned.
UPDATE: How We're Using Outlet Adaptors To For Wireless Computing
This is the Plug-In Internet Adaptor that we've been using for years now: Netgear Powerline Network Adaptor.
It works marvelously!
When we moved to a new (larger) house, we bought 4 of them (actually 2 sets, since 2 adaptors come in each set) and use them in the following locations:
Outlet that our big-screen TV plugs into in the living room — it's where we stream Netflix movies via Internet to our TV.
Outlet at a small desk where our spare (very old) laptop resides — so it's available for guests to use while they're visiting.
Outlet in my office — that's where my desktop computer resides. (Jim doesn't need an adaptor with his desktop computer since his is the only computer that's hardwired into the cable Internet that's coming into the house.)
Outlet in our bedroom — for those times when I'm working on my laptop in bed.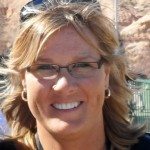 I like to help people find unique ways to do things in order to save time & money — so I write about "outside the box" ideas that most wouldn't think of. As a lifelong dog owner, I often share my best tips for living with and training dogs. I worked in Higher Ed over 10 years before switching gears to pursue activities that I'm truly passionate about. I've worked at a vet, in a photo lab, and at a zoo — to name a few. I enjoy the outdoors via bicycle, motorcycle, Jeep, or RV. You can always find me at the corner of Good News & Fun Times as publisher of The Fun Times Guide (32 fun & helpful websites).
.