This post may contain affiliate links. If you buy thru these links, we may earn a commission at no additional cost to you.
---
Malware is a term used for any type of software or code that is malicious.
If your computer becomes infected with malware, it can jeopardize the system security and harm its functioning.
As a result, it's important to take the proper precautions to reduce the odds of an infection.
By following these 5 tips, you should be able to prevent a malware threat from occurring and keep your computer safe.
5 Ways To Protect Your Computer
#1  Install a quality anti-virus program.
For example, programs like Norton, Microsoft Security Essentials and AVG are trusted for protecting computers from various types of threats like trojan horses, worms and viruses. Along with the initial installation, you should watch for anti-virus updates to maintain their functioning. While certain programs are somewhat costly, it's well worth it to keep your computer safe. If you look around you can sometimes find Newegg and HP coupons to use on anti-virus software to get considerable discounts for popular ones that have a licensing fee. Microsoft Security Essentials is one of the better free ones. It's easy to set up, and use. It is also lightweight, so it won't drag down computer performance.
#2  Be cautious when downloading files or software to your computer.
Many times, people get themselves into trouble when downloading items like toolbars or extra programs that they think will enhance their computer. In reality, un-trusted programs can be teeming with malware that can damage your computer. Bit torrents in particular notorious for this, and should be avoided. This also goes for Facebook programs. Because it is so popular it is now a big target.  There is more and more malware being found within Facebook programs, and links. To prevent an attack, you should only download files or software from a trusted website where you know for a fact that it's safe.
#3  Be wary of opening emails with attachments from un-trusted sources.
Many times, these attachments contain malware that can quickly overtake your computer and cause damage. In some cases, scammers will actually conceal malware in bogus attachments. If you happen to come across a file that ends in .exe, you should be especially cautious because they are commonly malware programs. To avoid this problem, you should simply delete any email attachments that look questionable and aren't from someone you trust.
#4  Avoid using shared disks and sharing a USB whenever possible.
Every time you use one of these, it puts your computer at risk for an infection. Once you double click on the drive, there is the potential for a virus to latch onto your computer. In case you have to use a shared disk, you should use a single right click on the drive and allow your anti-virus program to scan for possible threats. Doing so should reduce your chances of acquiring malware.
#5  Use a non-administrator account if you are using Windows.
This preventative measure is helpful because an administrator account has the option of installing new software which can lead to problems with infections. Since it's unlikely that you will have to continually install new software on a daily basis, having a non-administrator account will reduce the likelihood of malware infiltrating your computer and making detrimental changes. Note that you can still install software from a limited account, but it provides a popup that will ask for the administrator password before it does.
Check out these 8 tips to protect your computer from viruses and malware.
Our guest contributor, Byron Bishop, has a passion for computers and technology and has been writing on these subjects for over three years. Accordingly, he always stays up to date on the latest tech information.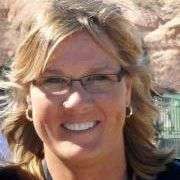 I got my first computer in 1986 and immediately started writing, saving documents, and organizing my entire life on it. Thus began my love affair with gadgets and all things tech. I built my first website in 1998 in old-school HTML code — before websites were "a thing". Blogs weren't invented yet. It was the same year that Google was born. My husband and I created TheFunTimesGuide.com in 2004 — before YouTube, Twitter, Reddit, and Mashable were launched. That was the year Facebook started and 'blog' was the Word of the Year according Merriam-Webster. Ever since then, anytime a new electronic gadget hits the market… I have to have it. (My husband's impulsive nature to try out every new tech gadget invented is even worse than mine!) When I'm not trying out fun new tech gadgets, you'll find me at the corner of Good News & Fun Times as publisher of The Fun Times Guide (32 fun & helpful websites).