Did you know?…
When you do a search in Google (or just about any other search engine), and the results include a link to one of those "newspaper" sites where you have to register first just to get the privilege of viewing their article… you don't actually have to register!
Here are 2 quick & easy solutions for bypassing those online registration forms:
#1 In the Google search results, you'll notice after each linked article is the word "cached".
Simply click on that to view the entire article WITHOUT the registration requirement.
It's not as "pretty", but the content is all there for you to read and enjoy… for free.
And for the record, the same holds true for those times you're working at someone else's computer (say, at a relative's house or work) and you get one of those "Watchdog-slash-Web Blocker" warnings stating that the site you wished to view is being blocked for one or more reasons (such as an over-protective parent or employer). Simply click on the word "cached" and you can still view it.
While I'm not advocating that people circumvent normal safety & security restrictions which are often put in place for someone's protection, I have found that a number of sites that are blocked are actually decent and clean websites — at least the portion of the site that I went to & found a particular article. Use your own judgement.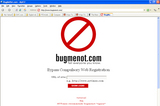 #2 Bug-Me-Not is an online site that provides you with a registration code and password for virtually any online registration site, including those "newspaper" sites.
It's powered by people like you & me who share the username and password information that THEY have successfully used to access a site before.
Don't worry, people aren't sharing any critical data here. Especially since most of these types of sitse offer "free registration" just for providing them with a name, an email address, and a password — each of which is typically made-up just for use at this particular site. Further, they are not generally the same username and password that one uses for other "important" things online or off.
Keep in mind, Bug-Me-Not's success relies on people passing along similar information in return. Therefore, anytime I come across a site that I'm required to "register first" before accessing their data, I always check to see if Bug-Me-Not has anything in their database for this site first, and if not, then I take a few extra seconds to enter it into BMN's database at the same time.
UPDATE: The New York Times even talks about the success of Bug-Me-Not here!
ANOTHER UPDATE: Since I wrote this post, I've noticed that fewer "cached" copies of articles are able to be found in Google searches these days. There's a "noarchive" code that website owners can place in their HTML code to prevent their articles from being cached. It looks like the "big dogs" are starting to do this now. (The other uses for Bug-me-Not still work though.)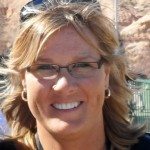 I like to help people find unique ways to do things in order to save time & money — so I write about "outside the box" ideas that most wouldn't think of. As a lifelong dog owner, I often share my best tips for living with and training dogs. I worked in Higher Ed over 10 years before switching gears to pursue activities that I'm truly passionate about. I've worked at a vet, in a photo lab, and at a zoo — to name a few. I enjoy the outdoors via bicycle, motorcycle, Jeep, or RV. You can always find me at the corner of Good News & Fun Times as publisher of The Fun Times Guide (32 fun & helpful websites).
.